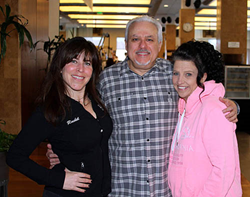 "Rachel's guidance was invaluable and she kept us on track when we had questions about our next steps." said Ruth Sorbanelli."
Englewood, NJ (PRWEB) April 30, 2014
Fresh off the success of its first Clean 21 Health Gain Challenge, THE GYM of Englewood has announced a second installment of the program created by Rachel Miller in an effort to encourage its clients to make healthier choices on a daily basis. Thirty-eight participants adjusted their lifestyles according to Miller's guidelines from March 11th to March 31st 2014, collectively reaping the benefits afforded by such a dietary overhaul.
The warm reception on the heels of the first Challenge prompted Rachel to once again offer her expertise this upcoming May, when she hopes to replicate and expand upon the positive impact that her initiative has seen thus far. Since arriving at THE GYM in 2009, Miller, an NASM, Certified Personal Trainer, Crossfit/TRX/Kinesis Instructor, Certified Holistic Health, and Wellness and Nutrition Coach has dedicated herself to improving the lives of her clients through a variety of nutritional and physical techniques.
The Clean 21 Health Gain Challenge follows five daily nutrition rules and provides members with grocery lists, access to the private online coaching forum The Clean Plate Club, weekly group meetings, and additionally Miller's constant support and daily advice. Miller's mission is to demonstrate the positive effects of a lifestyle based on nutrient rich real foods while eliminating their processed counterparts, essentially building a healthier living foundation. Participants can look forward to experiencing a multitude of health-related benefits during the course of the Challenge, such as boosts in energy, improved digestion, sounder sleep, and a lack of sugar cravings. Refuting the notion that a healthier diet comes with limited or bland food choices, Rachel's program offers delicious options; breakfasts include mini quinoa/oat/nut frittatas with organic berries; lunches featuring savory free range organic chicken and sage burgers with sweet tart hash and kale; and dinners punctuated by choices such as spicy thai (organic, grass fed) beef with rainbow slaw in lettuce cups. All meal inspirations are pictured along with recipes, and members will also have access to recipes for easily prepared snacks and treats, ensuring that they have a diverse menu from which to satisfy their pallets.
As Miller eagerly anticipates the onset of May's Clean 21 Challenge, she expects that the program will remain largely true to the previous installment, though she is focusing on increasing the accessibility of its Facebook page to create an even more interactive experience for members. She stresses that member success is grounded in participation – "the more you put in, the more you get out" – and thus encourages members by forming a tight-knit community in which they work together with their peers to achieve a common goal. Coupled with the weekly group meetings, Rachel believes that having an online venue (The Clean Plate Club) will further allow members to face the Challenge successfully.
"Within the forum I lead a series of fun, educational clean eating challenges to inspire my team to make the best choices for their health and happiness," she says. "They learn firsthand that they are what they eat…they feel great because they eat great." To make the challenge even more accessible, Rachel focuses on the concept that making minor changes in one's life can have a profound impact. "Simply by changing the food you choose to put on your plate you can truly transform your life and health."
Highlights from the March Challenge as reported by members include weight loss (ranging from 3 to 11 lbs.), balanced moods, the conquering of cravings, loss of chronic allergy/food sensitivity symptoms, and glowing, radiant skin.
Given the Challenge's overwhelming success, participants chimed in on their personal experiences.
"I had heard about the program and was interested in seeing what it was all about," said Rob Greenburg. "I eliminated bad carbs and sugar from my diet. After one week I felt great and had an increase in my energy levels. I even lost 6 pounds."
"Rachel's guidance was invaluable and she kept us on track when we had questions about our next steps." said Ruth Sorbanelli. "I tried new recipes that were based on her suggestions. They were delicious and I served them to my whole family."
Rachel hopes that her program will ultimately become a mainstay at THE GYM, continuing to inspire its members to strive towards a healthier – and happier – lifestyle. Registration for the upcoming Clean 21 Health Gain Challenge begin April 27th, 2014, with the Challenge itself beginning on May 5th, 2014.
About THE GYM of Englewood
THE GYM is a complete lifestyle and fitness center, designed to promote healthy living in a first class atmosphere. Its unique approach integrates specialized training programs with nutrition and weight management counseling for total body conditioning and optimal fitness. THE GYM is known for its superior quality equipment, expert staff and special amenities, including a juice bar, spa and child play area. The staff's attentive service and the facility's array of programs and services provide guests with a state-of-the-art experience.
Please visit http://www.GetToTheGym.com/englewood for additional information or call 201-567-9399.
THE GYM of Englewood
20 Nordhoff Place
Englewood, NJ 07631
201-567-9399