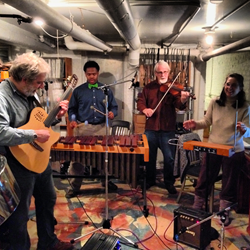 New York, NY (PRWEB) April 30, 2014
The experimental, electro-acoustic microtonal improvised music group "Feeding Goats" brings its avant-garde sounds to Moscow 57, the new Russian Central Asian restaurant on Delancey Street on New York's Lower East Side on Saturday, May 10th. The performance will start approximately 10:00pm. Other artists scheduled to appear include Jordan Pettay, Laura Foulke, and Ellen Kaye hosting and performing with the M57 Band.
"Feeding Goats" features artist-musician Michael Hafftka on guitar, synthesizers and other instruments, Yonat Hafftka on theremin, garrahand, steel pans and harmonium; Richard Carr on violin and computer and Allen Bernard Branch playing marimba and percussions.
Michael Hafftka is a composer, an improviser on fretless guitar and a visual artist. He is a member of the board for the American Festival of Microtonal Music. His music is featured on 12 CDs released by the Pittsburgh label, Six Gallery and the New York label, Pitch. He has collaborated with Jemeel Moondoc, Butch Morris, Johnny Reinhard, Noah Creshvesky, Jandek and Jeroen Thesseling. Hafftka has been a featured artist in two live concerts on WKCR-FM. He has performed live with his bands Feeding Goats and Defective Chords. Hafftka's music is on his soundcloud page with over 45,000 plays. https://soundcloud.com/feedinggoats.
Hafftka's art work is in the permanent collections of a number of museums, including: The Metropolitan Museum of Art, Museum of Modern Art, Brooklyn Museum of Art, San Francisco Museum of Modern Art, Carnegie Museum of Art, New York Public Library, Marion Koogler McNay Art Museum, Housatonic Museum of Art, Arizona State University Art Museum, National Gallery of Art, Yeshiva University Museum and Chapman University's Phyllis and Ross Escalette Permanent Collection of Art. Housatonic Museum of Art mounted a major retrospective of his large paintings in 2005 and in 2009 Yeshiva University Museum at the Center For Jewish History presented a comprehensive show of old and new works. Hafftka's Zohar paintings were shown in 2010 at the Mizel Center for the Arts, Denver, Colorado. http://www.hafftka.com/
Richard Carr is a violinist, composer and music educator who lives in Rosendale, New York. He holds a Doctorate in music education from Columbia University. He has recorded numerous albums under his own name and with artists such as Bill Laswell, Fred Frith, Bootsy Collins, Sly & Robbie, The Swans, Milt Hinton, Bucky Pizzarelli, John Pizzarelli Jr., Alan Dawson, Howard Alden, and Karl Berger. He has performed with James Williams, Kenny Davern, Doc Cheatam, Jay McShann, Jamal Nasser, Mike Nord, Georg Hofmann, Steve Gorn, and John McDermott. He has regularly toured the US, Europe, Japan, and Mexico over the past twenty years. He is a former radio host on WDST in Woodstock, NY. In the 1980's he lived in Boston and played sectional violin with the Boston Philharmonic. He currently teaches strings in the Poughkeepsie City School District. https://sites.google.com/site/richardcarrviolin/
Allen Bernard Branch is a multi-instrumentalist from Maryland who is most often heard playing with "Everyman" and "Feeding Goats" and some of the most beautiful church gospels ensembles in the East Coast. Allen brings seriousness and passion to everything he plays.
Yonat Hafftka, in addition to performing with "Feeding Goats," is a poet whose book of poetry "Sum" was published by Six Gallery in 2008.
Ellen Kaye performs nightly with Ethan Fein and the Moscow 57 Band at Moscow 57 on Delancey. Ellen has performed at Carnegie Hall (with the New York Pops), Town Hall, noted jazz club The Iridium, and the Metropolitan Room. Kaye's recordings are "Ice Wine - Songs for Christmas and dark winter nights," "3AM...the dogs, the milkman & me," "2AM," and a single of Dar Williams's "When I Was a Boy."
moscow57.com/ekmusic.html
The M57 Band is Ethan Fein, musical director, guitar and banjo; Benjamin Franklin Brown on bass and Gio Cepeda on drums, along with featured guest artists.
Moscow 57, the hospitality and entertainment company, was launched several years ago by partners Ellen Kaye, Seth Goldman and Ethan Fein. For the past two years, the company has been hosting its M57 Urban Salons, evenings of music, food and digital visual art displays, in Harlem; Washington Heights; Chelsea; the Upper East Side; the East Village; Governors Island; New Milford, Connecticut; and New Orleans. Moscow 57 has made New Orleans a home away from home, with regular forays into that city's world-renowned culture of Southern hospitality, regional cuisine, and world-class entertainment. After performing at and co-producing events with New York's Corcho Wine Room, as well as celebrating Latin American culture in New Orleans, this cosmopolitan attitude is being brought to Moscow 57's permanent home on New York City's Lower East Side every night.
Moscow 57 Entertaining, created in partnership with Ethan Fein, is developing projects for film, television and theater. Its music company produces podcasts, live performances, recordings and videos. Moscow 57's first CD releases have already garnered national radio airplay, and the company's videos can be seen on the Moscow57Entertaining YouTube channel. The company's M57 podcast will be streaming live on Sunday nights.
For more information contact Ellen Kaye at Moscow 57 646-584-2387, 212-260-5775 or ellenkaye(at)moscow57(dot)com.