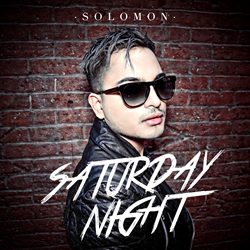 I got into a lot of trouble. I would get into fights. I'd get arrested. It was intense.
(PRWEB) April 30, 2014
Genre-bending, electronic hip-hop recording artist Solomon is set to premiere the story-like music video in support of his unique cover of the personal, synth-based "Saturday Night" from singer-songwriter Natalia Kills, appropriately this Saturday night May 3rd on VEVO.
"I heard this song, and much of her 'Trouble' album and I instantly was able to relate. I've never had one song fit so perfectly," the artist says. "I'm not a fan of doing cover songs, but this one felt right."
Recorded during current promotion for his critically-acclaimed third extended play, Le Garçon, Solomon uses the new and unexpected cover release as an example of the type of material fans can expect on his upcoming debut album, Why Boys Cry. Said to be similar to much of the songs recorded for the effort so far, in the sense of being autobiographical, the cover represents more ease for the artist to share his personal story with listeners.
Solomon retains the overall essence of Kills' tragic "Saturday Night" while giving the number a touch of his hip-hop background with an added edgy verse. "Beautiful boys with criminal cases, waking up to nameless faces," he sings.
In late March, Solomon filmed the accompanying music video with friends on location throughout New York City and inside a local music establishment. The director, Mikhail Torich, captured the artist's emotional experience of living in the chaos of New York and becomes a visual representation of his interpretation of the song being "kind of like a sad celebration."
"I remember distinctively, living in New York being depressed, and the only thing I could do to get me out of that funk was to put on my dancing shoes and go out," Solomon says. "I got into a lot of trouble. I would get into fights. I'd get arrested. It was intense."
Solomon, the up and coming, unapologetic, experimental artist, came onto the music scene in 2008 with the release of two well-received mixtapes, followed by three diverse EPs, including the pop-leaning Shades of Black and The Love Rocker Project. This all leads up to the anticipated release of his first official album, set for a late 2014 release. An amended 5-track version of Le Garçon can be downloaded for free here: http://smarturl.it/LeGarconFree.