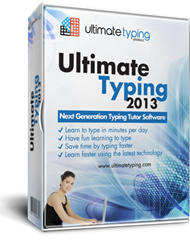 Typing skills are essential. Without at least average typing skills, people will be left behind in terms of work productivity and time management.
New York City, NY (PRWEB) May 01, 2014
Typing skills are essential. Without at least average typing skills, people will be left behind in terms of work productivity and time management. A new review by the Living And Learning At Home website assesses the software's features, tools, resources, and design, offering other homeschooling parents an inside look into the popular typing tutor.
To advance typing skills people really need to receive formal typing training, as eReflect has always believed. While there are many online programs and typing games that can help people improve on their typing performance, these lack the strategic structure and design to substantially improve a person's typing skills. This is something the reviewer at Living And Learning At Home also notes, when she points out that Ultimate Typing™ offers an easy and effective way to learn how to type.
The reviewer explains that unlike other software and online resources on typing, Ultimate Typing™ stands out in that it offers interesting and well-designed touch typing activities. The reviewer doesn't fail to note the personal tutor approach the software provides, something that ensures the user is adequately guided through the learning progress.
Thanks to the cutting-edge technologies the software has been equipped with, the user gets to learn how to type efficiently with minimum effort. Technologies like the progress monitoring tool allow instant recognition of a personal learning curve and how typing training can be adjusted to boost learning to meet individual needs and goals.
Another technology of Ultimate Typing™ the reviewer emphasizes is the personalization feature that allows the software to provide relevant and engaging activities for all typing levels and styles. The user can set their own typing milestones in terms of typing speed and accuracy and work towards achieving those goals. This level of customization ensures the user is competing against themselves, and they can track their efforts at any time in a quantifiable manner, both of which combine for increased motivation.
Living And Learning At Home also mentions how Ultimate Typing beautifully combines typing skills with new knowledge acquisition. The reviewer mentions that the software lets users integrate any Wikipedia or other online resource content for typing practice. eReflect thanks Living And Learning At Home for the thorough and inclusive review of its software.
*********
For more details on Ultimate Typing™ please visit http://www.ultimatetyping.com/.
About Ultimate Typing™
Ultimate Typing™ software is designed specifically for the improvement of typing skills. Created by eReflect, a world leader in e-learning and self-development software, Ultimate Typing™ has been informed by the latest developments in the science of touch typing.
Since its creation in 2006 by Marc Slater, the company has already catered to over 112 countries all over the world, offering products with the latest cutting-edge technology, some of which are among the world's most recognized and awarded in the industry.