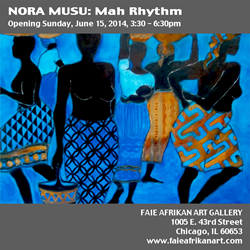 Chicago, IL (PRWEB) April 30, 2014
Faie Afrikan Art Gallery has announced its first female artist exhibition, featuring award-winning Liberian visual artist Nora Musu. Musu will present her "Mah Rhythm" collection influenced by her cultural heritage, June 15 through July 31 at the Chicago-based gallery.
The exhibit will feature some of Musu's most popular pieces, including "Market Women/Cobalt Blue", along with selections from her "Water Carrier" and "Mah Dancers" series. She will also unveil new artwork for the collection.
"When Nora reached out to me, I did not have any female artists in the gallery and appreciated her aesthetic," said gallery owner Faye Edwards. "It is a joy to find great contemporary African art and, even more so, for it to be by a woman of the Diaspora. That just made my day."
Born in Madison, WI to Liberian parents, Musu was raised in Liberia, went to boarding school in England and spent much of her adult life in the U.S. Her interest in the abstract and unconventional, though piqued at an early age, was ultimately shaped by her studies at the University of Liberia. Musu's cultural influences are evident in her eclectic use of mixed media, movement, texture and large landscapes to create pieces that are reminiscent of ancient African stone and wooden sculpture.
"I am excited for this opportunity to present my work at Faie," said Musu. "It has the kind of atmosphere that I'd like to see my work in. It is also an honor to know that I am the first woman artist whose work will be featured. In a sense, I am paving the way for more women artists, especially of African descent, to present and share their work on a broader scale."
"Mah Rhythm" opens Sunday, June 15 with an intimate reception from 3:30 - 6:30pm at Faie Afrikan Art Gallery. The gallery is located at 1005 E. 43rd Street, Chicago, IL 60653. For more information, visit http://www.faieafrikanart.com.
About Nora Musu
Nora Musu is a Liberian-American artist whose art and life experience epitomize an organic multiculturalism that transcends boundaries. She primarily uses an innovative blend of acrylic polymers, and iron and copper particles enhanced by a process of rusting and patina, to create a three-dimensional sculptural relief effect in her work. Her pieces have been exhibited internationally, including the DuSable Museum (IL), the Museum of Science and Industry (IL) and the United Nations. Musu currently resides in Columbus, OH. She also holds a BS in Business Administration from Franklin University. For more info, visit http://www.noramusu.com.
About Faie Afrikan Art Gallery
Faie Afrikan Art Gallery strives to make quality artwork from Western, Eastern, Central and Southern regions of Africa -- usually found in private collections and museums -- accessible to wider audiences. The gallery began in 1995 with a trip to Mali and Guinea in West Africa and evolved into a quest to explore the art of the continent and celebrate the connections to tradition, family, the ancestors, and the belief in the Omnipresence of the Spirit. Faie Afrikan Art Gallery continues to share in the discovery of beautiful, authentic art made in Africa by traditional craftsmen. For more information, visit http://www.faieafrikanart.com.