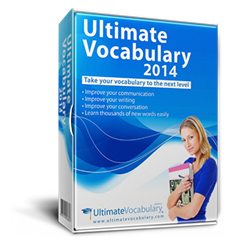 People evaluate each other's intelligence and skills based on the vocabulary they choose when speaking.
New York City, NY (PRWEB) May 02, 2014
Mark Slater, director of eReflect, the parent company of Ultimate Vocabulary™ and other self-improvement software, discussed vocabulary building with Really Learn English, and how people can improve their vocabulary easily and efficiently. One of the distinguishing features of Ultimate Vocabulary™ is that the program is effectively a step-by-step vocabulary builder that offers support and guidance towards a richer, broader vocabulary. As Slater points out, the learner is essentially taken by the hand and guided through vocabulary activities which helps them learn new vocabulary in a fun, interactive manner.
Often, parents remind children "you need to build your vocabulary" but they don't follow this reminder up by offering any useful solutions to help their children do so. When Slater recognized this lack of easy to use resources for parents and children, he realized this would be a market opportunity for a vocabulary builder parents would give their children to help them become more efficient language users.
The second reason Ultimate Vocabulary™ is a useful tool in building vocabulary, Slater told Really Learn English, is its customizability. Each learner will engage with the activities in a different way from every other user of the software. The system allows each user to tailor the activities and games to their individual level and learning needs so that the activities will have an immediate benefit. Being able to customize the exercises, notes Slater, allows people to focus on new vocabulary rather than going over words they have already learned. The technology of Ultimate Vocabulary™, Mark Slater explains, ensures the learner can keep track of their learning progress and see what weaknesses they have and where they need to focus their practice.
The third aspect of the software the interview focuses on is the intuitive character of the software, somthing which makes it possible for people of different learning styles to find activities that suit them and help them easily learn new vocabulary. A learner can choose from vocabulary building games, lessons, and word lists for specific purposes. They can concentrate on learning vocabulary specifically for GMAT or SAT exams, for example, or choose to learn words from a dictionary-like word database to improve their vocabulary.
As Slater concludes, people evaluate each other's intelligence and skills based on the vocabulary they choose when speaking, and Ultimate Vocabulary™ ensures that the user will gains confidence in their choice of words, and their ability to use them.
For more information on how you can benefit from Ultimate Vocabulary, please visit its official website, http://www.ultimatevocabulary.com.
About Ultimate Vocabulary™
Ultimate Vocabulary provides a proven and powerful platform, built to improve anyone's vocabulary.
The interactive self-improvement system provides more learning tools than any other program on the market, as well as more information on words.
The Ultimate Vocabulary software provides each and every user with a personal computer tutor. Providing a step-by-step guide to learning a powerful vocabulary, Ultimate Vocabulary is the learning tool everyone can benefit from.
Of course, the software is also backed by eReflect's iron-clad money back guarantee.