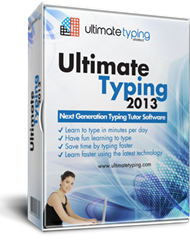 ...regular practice is the best way to advance typing skills...
New York City, NY (PRWEB) May 03, 2014
eReflect, developer of Ultimate Typing™ software, revealed today that Ultimate Typing™ has been recognized as an authoritative step-by-step touch typing software by The Homeschool Mom blog. The blogger offers a detailed review of Ultimate Typing™, its features, and its benefits, and discusses the reactions and feedback she received from her children when they used it to learn how to type.
The reviewer was impressed by the program, and spends time acknowledging the variety, customization, and range of activities the learner gets to choose from. Ultimate Typing™ is not a children's program, she notes; adults and beginner typists can equally benefit from practicing with the software. As the reviewer asserts, the software offers a complete typing skills package. "If you are looking to take things a step further, lessons on ergonomics, dictation, numeric key pads, and fast typing tonics are available as well," she states.
Ultimate Typing™ is an inexhaustible resource of games and exercises for typing practice. The program lets the user use Wikipedia and other texts extracted from the Internet to practice typing with, ensuring that the user will be inspired to practice. Because regular practice is the best way to advance typing skills, improvement through this software is only a matter of time. The ability to choose the text to practice with reflects the overall approach of Ultimate Typing™ to make learning interesting, fun, and personal. The reviewer concludes that Ultimate Typing™ and its video tutorials make learning less daunting since the learner is guided through the basics with the help of the typing tutor videos.
The reviewer commented that the technology of the software allowing her to monitor and track her children's typing progress, and says that this is a great tool that makes it possible to adjust her children's lessons according to their learning pace and progress. A comprehensive package of tools and the smart technologies they use are two things the reviewer focuses on in her post about Ultimate Typing™. As she points out, people at many different typing levels can find this software useful, because it offers a wide variety of activities and games to choose from, ensuring the learner never gets bored and is always motivated to improve further.
*********
For more details on Ultimate Typing™ please visit http://www.ultimatetyping.com/.
About Ultimate Typing™
Ultimate Typing™ software is designed specifically for the improvement of typing skills. Created by eReflect, a world leader in e-learning and self-development software, Ultimate Typing™ has been informed by the latest developments in the science of touch typing.
Since its creation in 2006 by Marc Slater, the company has already catered to over 112 countries all over the world, offering products with the latest cutting-edge technology, some of which are among the world's most recognized and awarded in the industry.