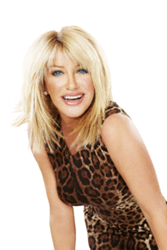 Somers will share her secrets of how to take control of your aging today by maintaining total wellness, with added benefits of renewed energy, strong bones, an improved sex drive, a resilient immune system and looking and feeling 10 to 20 years younger.
Bellevue, WA (PRWEB) May 04, 2014
Suzanne Somers, healthy-living advocate, best-selling author, award-winning actress, entrepreneur, and national spokesperson for Forever Health, will be the featured speaker at "A New Way to Age" event on Thursday, May 29 at Meydenbauer Center in Bellevue. Doors open at 5:30 p.m. and $75 tickets to this star-powered event, including appetizers, non-alcoholic beverages, parking, a swag bag that include over $400 in certificates as well as premiere Skin Medica products and a complimentary copy of Somers' new book, "I'm Too Young For This" are available now by clicking http://www.brownpapertickets.com/event/640804, or by calling Brown Paper Tickets' event concierges 24/7 at 1-800-838-3006.
Suzanne will share her solutions and secrets of how to take control of aging and live your best younger life. Joining her to talk about optimizing the aging process will be guest speakers and doctors from the Anti-Aging Center at PRO Sports Club in Bellevue.

Dr. Daniel Levy - Board Certified Dermatologist speaks on Aging Gorgeously
Dr. Joseph Upton - Board Certified Anti-Aging Specialist shares the revolutionary Science of Telomeres
Dr. Mark Dedomenico - Founder of the Anti-Aging Center at PRO Sports Club, provides a brief overview of how to fight aging now.
This fun and inspirational evening will begin with a reception at 5:30 p.m. with Suzanne speaking at 6:30 p.m. Space is limited. For more information, call 425-885-5566 or visit proclub.com/suzannesomers.
The Anti-Aging Center at PRO Sports Club in Bellevue was started by club owner Dr. Mark Dedomenico. Dr. Mark Dedomenico's professional career as a world-renowned surgeon and researcher was influenced by his personal interest in finding ways to mitigate aging. For over seventeen years, he's been personally optimizing the aging process with bioidentical hormone replacement therapy, nutrition and daily exercise. He and his team's passion to help patients achieve and maintain optimal health is giving new hope to an entire generation who want to take control of how they age. For more information on the Anti-Aging Center, visit: http://www.proclub.com/Wellness/Anti-Aging
##
Editor's Note: Press opportunities include call-in interviews for radio, Skype interviews for television, and a press event on Thursday, May 29th from 4:30 p.m. – 5:30 p.m. at Meydenbauer Center. To schedule an interview with Suzanne or to attend the press event, please contact Linda Rackner at 425-861-6225 or lrackner(at)proclub(dot)com.
About Brown Paper Tickets (http://www.BrownPaperTickets.com): Brown Paper Tickets is a socially conscious global leader in online ticketing and event registration services, helping people in 68 countries to plan, promote and sell out events. As a social innovator, the company donates 5 percent to charities with every ticket sold, supports a team of full-time community advocates, called "Doers," and still charges a ticketing fee that is lower than competitors. To learn more about the world's only Not-Just-For-Profit ticketing company, visit http://community.brownpapertickets.com/press/.