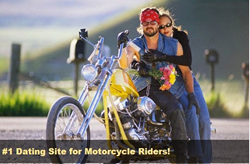 Los Angeles, California (PRWEB) July 01, 2014
It's natural for a guy to go on a few dates with a lady before their relationship can be established, which means these few dates can actually determine how the relationship goes. Doing something stupid on the date will probably make the chance of two people being together fade away, or worse, disappear instantly. In a recent poll that BikerKiss.com did among its members, nearly 20% of the members had the experience of screwing up a first date. Therefore, the dating counselors on this biker dating site thought would it be helpful to offer some tips for a first date, which they hope will give members some insight on how to operate a successful date.
Below are the principal 5 tips:
1. A little bit sense of humor works the best for a guy. Women always like those who make them laugh.
2. On a first date, don't try to impress her by making stupid assumptions about her likes and dislikes.
3. Never go on a date with nails grown long. That really cuts down a man's masculinity.
4. Don't try to be too intimate. Think giving her a kiss goodbye might be nice? But in fact the idea of just holding hands may even freak her out.
5. Asking about previous relationship or ex (if any at all) on a first date hardly ends well.
A lot more tips are offered to biker singles. Visit BikerKiss.com for more.
About BikerKiss.com:
BikerKiss is world's first, largest and most effective biker dating site for biker singles who are looking to meet other biker friends. It is a best place for bikers and friends to get to know each other, establish relationships and talk about their interests, or to help each other.