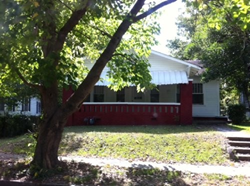 Chicago, IL (PRWEB) April 30, 2014
American Homeowner Preservation ("AHP") is helping struggling homeowners nationwide avoid foreclosure and has now extinguished more than $50 million in negative equity. Homeowners from all walks of life happen upon varying circumstances that leave them vulnerable to foreclosure. Even those who have dutifully served this country and continue to work hard in other crafts find themselves backed into a corner through unfortunate events. D.M is a 24 year Navy veteran and, when he purchased a rental property, the goal was to put his daughters through college.
D.M purchased the single-family, three bedroom home in 1989, and until 2000, it was consistently rented and occupied by tenants. After 2000, D.M was not always able to keep the property occupied; with sometimes six months going by between tenants. Several years ago, during one of the periods of vacancy, the property was broken into and stripped of materials. "They stole all my copper from my plumbing, and the wiring—they just ripped the wiring at the walls. They stole my air conditioning system, sink, bathtub," D.M said.
Shortly after the break-in, a tornado came through Birmingham and a tree crashed through the roof of the property. D.M began making all of the repairs himself. "I couldn't repair plus pay mortgage—that was just impossible," said D.M. "I totally remodeled the whole house. It took me several months, probably about 8 months before it I actually finished."
D.M made an estimated $15,000 in repairs and had fallen behind on his mortgage payments in the process. When his lender asked if he wanted to sign over the property in a deed in lieu of foreclosure process, D.M declined and continued to look for solutions.
One day he received a letter from AHP CEO Jorge Newbery stating that AHP had purchased his loan and would work with him to keep the property. D.M chose to settle his delinquent payments of $5,682.22 for $2,000 and his monthly payments were cut from $330 to $90. "It made me feel good," D.M said. "It put me in a position where I can take care of business and maintain my dignity." D.M was able to pay for both of his daughters' college tuition and is still putting one through medical school.
AHP uses real estate crowdfunding to purchase pools of non-performing mortgages from banks and lenders at significant discounts. Using these discounts, AHP extinguishes negative equity for homeowners who are at risk of foreclosure while providing investors with 9-12% returns.
American Homeowner Preservation started in 2008 as a 501c3 nonprofit before transitioning to for profit and evolving into a socially responsible hedge fund. AHP recently added crowdfunding, offering 9 – 12% annual returns to investors. To learn more about AHP, visit https://ahpinvest.com, call 800-555-1055 or email info(at)ahpinvest(dot)com.