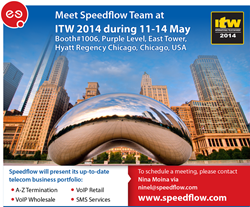 Speedflow location is the same as last year: East Tower, Purple Level, Booth# 1006.
(PRWEB) May 05, 2014
Speedflow, UK-based Telecom provider and VoIP software developer, is attending International Telecoms Week 2014 in Chicago, 11-14 May.
The company will showcase its updated range of Telecom Services and high-quality Software Solutions with online demo-access.
Everyone is welcome to visit Speedflow booth and get complete information about our Telecom services and VoIP Software Solutions including:

A-Z termination, VoIP wholesale, VoIP retail, CLI routes and SMS offerings.
Innovative CallMax Class 5 Solution with a modular structure that comprises IP PBX, Calling Card and Call Shop platforms. The Solution has integrated billing and convenient Web Portal for end-users.
Newly-developed version of the carrier grade MediaCore Class 4 Solution with its own Switching, Routing, Billing, Transcoding, Revenue Assurance Mechanism - the Guardian onboard and a new module - SMS Solution.
Cutting-edge Pay-n-Get turnkey solution for pre-paid services that eliminates the need for scratch cards
Channel Partner Programme – win-win opportunity for businesses to generate new and continuous revenue streams by distributing Speedflow's high-quality products.
Having full range of VOIP services and solutions, Speedflow helps its customers to upgrade their communications, simplify their work, make their companies flexible by switching to our regularly upgraded solutions. And as a result – to be on the top.
Speedflow location is the same as last year: East Tower, Purple Level, Booth# 1006. For further information about the event or to arrange a meeting, please contact Speedflow at info(at)speedflow(dot)com.
For more information about Speedflow services and solutions please visit http://www.speedflow.com.