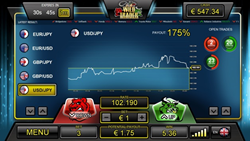 (PRWEB UK) 1 May 2014
Players can enjoy financial betting with one more game. Wild Trader is now fully available online to be integrated in gaming and betting websites. This is the third game of TRADINATOR after Markets Rally and Crazy Markets that is offered online.
All three games are based on Turbo and Super Turbo binary options and offer fast and exciting betting on binary options thus delivering a dynamic player experience. The third game Wild Trader makes even more exciting the gaming journey and the players now can enjoy financial betting more than ever before.
The extremely short expiration time of the options adds extra enjoyment to the trading experience.
The games were first introduced earlier this year as implemented in TRADINATOR land-based gaming terminal. They turned into a great success and sparked the interest of the gaming world.
TRADINATOR games are available as a cross-platform solution thus users can play at any physical location, on the go or at home on all types of devices including regular PCs, mobile phones and tablets.
Bring a new kind of excitement to your players with TRADOLOGIC's gaming solution! Find out more about the games at trade-floors.com.
About TRADOLOGIC
TRADOLOGIC is an award-winning software provider for binary options trading to the financial and gaming industry. TRADOLOGIC's team pioneers in the binary option trading field and possesses a first-hand insight and deep knowledge about the financial trading industry. Currently, the company offers its clients a variety of products including option types, trading tools, advanced features, integration solutions and services that deliver outstanding trading experience and optimized user value.