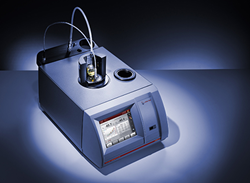 Ashland, Virginia (PRWEB) May 01, 2014
The new cold filter plugging point tester contains all required components according to the standard method. Testing and results are in full compliance with ASTM D6371, EN 116, EN 16329, IP 309 and JIS K2288. In addition, Callisto 100 can be used for manual cloud and pour point measurements.
Based on more than 30 years of Anton Paar's experience in Peltier element technology, Callisto 100 comes with a newly developed state-of-the-art Peltier element concept which allows the connection of a methanol-free cooling system. It ensures outstanding homogeneity of the cooling jacket, which is the most critical and decisive parameter for a correct CFPP value determination.
For easy and intuitive operation, Callisto 100 comes with pre-programmed standard test methods and the possibility to create and store up to 90 individual user programs. The large color display indicates the sample and jacket temperature in real time and provides additional graphical information about the aspiration and back flow times to observe the temperature behavior of the sample during the test.
Thanks to contact-free infrared detection technology the complete filtration unit is easily accessible and has the same detection position in each test, which ensures high accuracy and repeatability. Callisto 100 delivers excellent detection, even when the pipette is frosted, and there are no interferences by daylight.
Callisto 100 has a minimum downtime for high sample throughput. Once users have prepared their second complete filtration unit and put it into the storage place at the rear of the instrument, the instrument is ready for the next test run within seconds. To make the cleaning of the pipette as easy as possible, a programmable automated cleaning routine can be initiated at the push of a button.
For more details visit http://www.anton-paar.com.