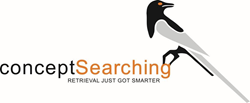 McLean, VA, US and Stevenage, UK (PRWEB) May 05, 2014
Concept Searching, the global leader in semantic metadata generation, auto-classification, and taxonomy management software, and developer of the Smart Content Framework, is pleased to announce that Don Miller, Vice President of Sales – Commercial Accounts, will be hosting a session on information governance in Office 365 at SharePoint Fest New York City. The event is being held on June 18th - 20th at the Javits Convention Center, Manhattan. Registration is open.
SharePoint Fest events offer technical classes and seminars – taught by Microsoft certified trainers, Microsoft engineers and Microsoft MVPs – covering Enterprise Content Management, social SharePoint, business value, infrastructure and administration, workflow, search, Business Intelligence, and development.
The Concept Searching 'Office 365 Information Governance and Compliance' session will provide attendees with an understanding of why information governance in SharePoint and Office 365 is vitally important to organizations, and how to achieve it using the conceptClassifier for SharePoint and conceptClassifier for Office 365 platforms. Real-life case studies on how clients have implemented the semantic metadata generation, auto-classification, and taxonomy management technologies in a cloud environment will be shared.
Information governance is a critical component of Office 365. Session topics will include how to improve search and records management; eliminate data breaches; and perform intelligent migration, text analytics, eDiscovery, litigation support, FOIA, social networking, and collaboration. These challenges can be met through one set of technologies, to solve unstructured and semi-structured content management issues.
Session speaker Don Miller is a senior executive at Concept Searching, with over 20 years' experience in knowledge management. Considered an expert on semantic search and taxonomies, in both SharePoint and platform-agnostic environments, he is a frequent speaker on Records Management and information architecture problems and solutions, at conferences such as Taxonomy Boot Camp and Managing Electronic Records, and at numerous SharePoint events about search, information governance, records management, compliance, and data privacy.
"conceptClassifier for Office 365 is currently the only commercially available solution in the market that enhances search, automatically identifies documents of record, secures confidential information from unauthorized access, provides intelligent migration, and improves any business process that utilizes metadata," said Martin Garland, President of Concept Searching. "Moving to a cloud environment presents the same challenges as in an on-premise environment. This educational session will give attendees a strategy and roadmap to implement Office 365."
Concept Searching is the developer of the award winning conceptClassifier for SharePoint and conceptClassifier for Office 365. The industry unique technologies consist of automatic semantic metadata generation, auto-classification, and taxonomy management tools that offer bi-directional, native operation with the SharePoint Term Store.
Follow Concept Searching: http://www.twitter.com/conceptsearch
About Concept Searching
Founded in 2002, Concept Searching is now the industry leader specializing in conceptual metadata generation, auto-classification, and taxonomy management. Platform agnostic, Concept Searching is also a Microsoft managed partner with a Gold competency in Application Development, and offers a complete suite of SharePoint solutions. The award winning technologies integrated with Concept Searching's Smart Content Framework™ encompass the entire portfolio of unstructured information assets in on-premise, cloud, or hybrid environments. Clients have deployed the intelligent metadata enabled solutions to improve search, records management, protection of privacy data, migration, text analytics, eDiscovery, and Enterprise/Web 2.0.
Concept Searching is headquartered in the US with offices in the UK, Canada and South Africa. For more information about Concept Searching's solutions and technologies visit our Blog.
All product and company names herein may be trademarks of their respective owners.