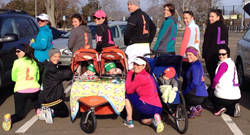 "Together, We Can Accomplish Anything" is Liz Shuman's personal motto.
Madison, CT (PRWEB) April 30, 2014
In 1955, children born with cystic fibrosis often died before reaching elementary school. Today, people with CF are living into their 30s, 40s and beyond. Liz Shuman, diagnosed at age 8, is one of those enjoying adulthood... and this group of OutRUNNERS is celebrating right along with her!
The 'OutRUN 38' Facebook group was dreamed up by Liz's childhood friend Nicole Cretella Burke as a way for Liz's community to celebrate her 38th birthday this September 6, 2014.
'OutRUN 38's' initial plea asked runners to join the Facebook group then run and post their miles. The goal was to run a collective 38,000 miles and raise $3800 for The Cystic Fibrosis Foundation (CFF). Within days of their Facebook launch, people all over the world were joining the group and sharing the details on their own social media pages. They posted pictures of their runs, some taping an 'L' on their backs to show support for Team Liz. OutRUN 38's momentum is gaining. They will reach 38,000 miles in the next two weeks, and will celebrate Cystic Fibrosis Awareness Month (May) by setting a goal of 380,000 miles!
"Now that I'm getting older, I realize the importance of finding a cure," Liz says. "I would not be able to fight this fight without my friends, my family, and this community. Those pieces are essential to my fight."
What you can do:
*Run, walk, swim, or bike then post your miles on our open Facebook group (OutRUN The Odds) with a message for Liz and submit your miles through the pinned post at the top of the page. Or visit our website http://www.outrun38.org.
*Share our group with everyone you know