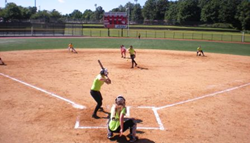 Teams are developed in the season, while players are developed in the summer.
Fairfield, CT (PRWEB) April 30, 2014
Revolution Softball Camps has published their 2014 summer softball camp schedule. Over the past 5 years, thousands of eager young softball players have attended Revolution Softball Camps to improve and have fun. New locations this summer include softball camps in New Hampshire, Connecticut, and Pennsylvania.
Revolution Softball Camps have a unique balance between instruction and scrimmages at their camps, providing campers with the opportunity to learn new skills while also gaining game-time experience. Our summer softball camps are designed for athletes to learn, develop, and enhance their skills in all phases of softball. We provide the opportunity to become better softball players by hiring some of the best coaches and players in the sport today.
Softball is one of the largest team sports for girls in the country with over 2.25 million youth players and 235,000 high school players, according to Softball Excellence. Many coaches appreciate the role that camp plays in the development of team members. "Teams are developed in the season, while players are developed in the summer," according to Matt Cook, the Executive Director of the Revolution Softball Camps. This year, over 100,000 players will attend a summer softball camp for girls.
Interested prospective campers can learn more about Revolution Softball Camps and view the 2014 softball camps schedule at SummerSoftballCamp.com.
Revolution Softball Camps is a division of eCamps, Inc. eCamps is a nationally recognized provider of summer sports camps. Other camps include the adidas Tennis Camps, Revolution Field Hockey Camps, GameBreaker Lacrosse Camps, U.S. Rugby Camps, Fusion Swim Camps, U.S. Wrestling Camps and the International Squash Academy.