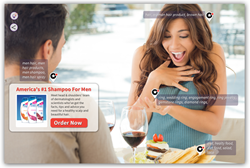 By identifying nearly any object in an image of any website, we can collaborate with advertisers to promote their products through the content while still maintaining a seamless user experience.
New York, NY (PRWEB) May 06, 2014
People often say an image is worth a thousand words. PopMarker, a new interactive in-image advertising platform, can make this common saying a possibility online. The new online advertising company recently launched their innovative technology taking online ad content to the next level.
With PopMarker, advertisers can place linked advertisements on any of the over 3 trillion images online. The ad hides until a mouse hovers over the starred, semi-transparent marker placed on the image. PopMarker is the only company currently offering fully embedded advertising in images. The company's search and auction technologies are unique offering advertisers the type of functionality offered in text advertising by AdWords and AdSense.
With PopMarker's latest technology, advertisers can tap into the benefits of content marketing within the image. When an internet user goes to a website, their main purpose is to read the content; not the advertisement or banner ad. By placing the discreet advertisement in the image, it not only creates a more knowledgeable experience for the user, but it presents the user with a call-to-action to purchase the item they may be interested in.
Publishers can also take advantage of the software by choosing to utilize the images to create information ads, social ads and commerce ads. The experience is customized to each viewer and to the context of the image for maximum consumer engagement. The PopMarker icon alerts consumers that an image is interactive. Consumers can then access relevant content just by mousing over the image.
The PopMarker tool can work in both product-specific images and stock photos. For example, in a stock image of a man proposing to a woman at a restaurant's dinner table, advertisers can tag the specific diamond ring, perfume, clothing and food and beverage items within the image.
The PopMarker plug-in for WordPress, Joomla and Drupal enables even bloggers and small web publishers to begin monetizing their images. In addition, the advertising spend is straightforward and the analytics are readily accessible.
"The idea is simple," said Sarper Kocabiyik, CEO and Founder of PopMarker. "By identifying nearly any object in an image of any website, we can collaborate with advertisers to promote their products through the content while still maintaining a seamless user experience. Not only are we helping the advertisers, but we are assisting the consumer with finding the items they are interested in."
PopMarker is currently built by a team of three software development experts: Sarper Kocabiyik, CEO; Ali Demircioglu, CTO; and Merk Cakmak, VP of Engineering. The team has worked with startups and early stage companies as well as for major international brands and companies both in the United States and Europe.
PopMarker has already established international interest with the in-image advertising platform and features multi-language support to further the international appeal. The development of the company began in Plainview, New York in April 2012, but in 2013, PopMarker launched a beta version of their software in Istanbul, Turkey. Within just a few months the company had major advertisers like Turkish Airlines and the country's largest publishers on board. PopMarker is now launching in the Czech Republic with deals across Europe, the Middle East and China. Early results in the Turkish market indicate a click-through rate close to 25 percent.
Popmarker has also already been recognized for their innovation this quarter. They are award recipients of the 2014 Global Innovator II Audience Award, Launchpad March Demo Night and recent Long Island Software Awards.
To learn more visit: http://www.popmarker.com/faq.
About Popmarker:
PopMarker is an Interactive In-Image Advertising Platform for publishers and advertisers. The company's vision is to become a leading provider of global image-based software applications. Our experienced team of technological innovators is dedicated to providing exceptional value for our publishing and advertising clients while offering web users and consumers state-of-the-art interactive applications that allow them to shop, surf, comment and network directly from an online image.