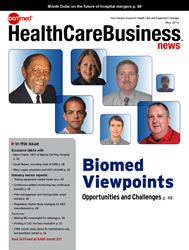 Your industry source for Health Care and Equipment Coverage
New York, New York (PRWEB) May 01, 2014
Featured stories:
Biomed Viewpoints –Industry professionals from Healthcare Technology Management Association of South Carolina, Martha Jefferson Hospital, Advocate Health Care, SSM Health Care, Park Nicollet Health Services, Broward Health Medical Center and more talk about what it takes to stay on top of today's biomed responsibilities.
http://www.dotmed.com/news/23230
Imaging Informatics – David Hirschorn, Robert Cooke, Wells Mangrum, Satish Mathan, Safwan Halabi and Raym Geis explain what it will take for meaningful use to be meaningful to radiology.
http://www.dotmed.com/news/23085
3-D printing –Representatives from Organovo, Wake Forest Institute for Regenerative Medicine, Wyss Institute for Biologically Inspired Engineering at Harvard University, Cardiff Metropolitan University and Johns Hopkins Medicine discuss the medical potential for print.
http://www.dotmed.com/news/23267
CMS update – CMS comes clean about the maintenance rule, but questions remain. ECRI Institute, Community Hospitals of Indianapolis and the Joint Commission talk about the possible answers.
http://www.dotmed.com/news/23260
Industry sector reports:
Testing Equipment –Industry experts from Unfors Raysafe, Radcal, Fluke Biomedical and Michigan Instruments offer updates.
Patient Monitoring - Sotera Wireless, ECRI Institute and Welch Allyn offer reasons why continuous monitoring will continue to attract customers.
Infusion pumps – We explore the growing interest in pain management and interoperable smart pumps with MD Buyline, MRG, Kalorama Information and KLAS.
Defibrillators – AED manufacturers are likely to have some regulatory headaches coming up. Representatives from the FDA, Sudden Cardiac Arrest Foundation, Public Citizen, Readiness Systems and Physio-Control explain why.
This month's exclusive Q&A articles:
Sean Fowler, CEO of Marina Del Rey Hospital discusses his goals as he settles into his new appointment
David Brown, incoming chair for SIIM offers some insight on the upcoming show
Mary Logan, president and CEO of AAMI talks about this year's show
Also in this issue:
IT Matters: Re-thinking CAD for the next generation
Dr. Eliot Siegel talks about where CAD should be headed
Practice Management:Dr. Vijaykumar S. Kasi explains how vascular robotic systems are transforming cardiac cath labs
The future of . . . "showcases the predictions of leading industry experts and their thoughts about where their sector will be in five to 10 years. This month, we feature Monte Dube partner and head of the Chicago health care practice at the law firm Proskauer Rose LLP. Dube discusses the future of hospital mergers.
http://www.dotmed.com/news/23303
About DOTmed
DOTmed.com, Inc. is the leading public medical equipment marketplace and the leader in online medical equipment auctions with more than 10 years' experience. With more than 350,000 listings and 220,000 registered users, DOTmed is revolutionizing the medical equipment market place through innovation, access and programs that serve buyers and sellers alike. Visit DOTmed.com to learn more. DOTmed HealthCare Business News is a monthly print publication delivered to top health care executives every month with a BPA audited circulation of 31,000. It is also available on the iPad. Search "DOTmed" on the App Store to download.