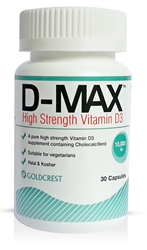 Over 80% of those surveyed were not aware of the UK's population being at very high risk of vitamin D deficiency.
(PRWEB UK) 7 May 2014
The new study published by Hui Wang, MD, PhD, Professor at the Shanghai Institutes for Biological Sciences at the Chinese Academy of Sciences examined the link between vitamin D levels and cancer survival rate (published 28/04/2014 - The Journal of Clinical Endocrinology & Metabolism, http://press.endocrine.org/doi/abs/10.1210/jc.2013-4320). The study found that a small increment of 10 nmol/L in vitamin D levels was associated with a 4% increase in survival.
This new study has brought to light the protective effects of vitamin D for cancer patients, however the nutritional specialist at vitaminplanet.co.uk Ryan Laing has commented on the importance of vitamin D supplementation for all with low vitamin D levels. "Physicians must place greater importance on monitoring vitamin D levels in high risk patients. It is vital that supplementation is recommended to cancer patients and also individuals with low vitamin D levels as a preventative measure for it myriad of health benefits," says Ryan Laing.
Vitamin D can be naturally absorbed from some food sources such as fish, milk and eggs however the majority of vitamin D is produced in the skin when precursor molecules react with sunlight to produce the bioactive compound 1,25-dihydroxycholecalciferol (or vitamin D). This vitamin is important to the absorption of calcium for strong and healthy bone growth, but as a natural steroid hormone, vitamin D is able to bind to receptors on every cell and is important in normal cellular health.
Senior Research Associate, Mark Owen at vitaminplanet.co.uk says that the majority of adults in the UK are unaware of the recommended daily vitamin D requirements. Following completion of an independent research study into vitamin D, it was found that, "Current awareness of the importance of vitamin D is worryingly deficient, with the majority of those surveyed were not aware of the UK's population being at very high risk of vitamin D deficiency," says Mark Owen.
In light of the new published data, the demand for vitamin D supplements have more than trebled according to Rachel Moor, Purchasing Manager at Vitamin Planet. "Our innovative new product D-Max Vitamin D3 has our most popular product as people realise the incredible health benefits of Vitamin D," say Rachel Moore.
The exclusive D-Max Vitamin D3 product formulated by vitaminplanet.co.uk contains the innovative new absorption technology, OptiZymeTM. OptiZyme™ absorption technology has been clinically proven to significantly enhance the absorption of Vitamin D in the body. Each Vitamin D-MAX® capsule contains OptiZyme™ which increases the bioavailability of nutrients into your body giving you more Vitamin D absorption therefore higher levels.
Helen Jones has recently purchased vitaminplanet.co.uk's D-Max Vitamin D3 and has experienced the enhanced efficacy of this product for herself. "Being a vegetarian and working indoors in an office everyday contributed to having low vitamin D levels. I struggled to find a high strength, vegetarian form of Vitamin D at my local health shop. However, the innovative new technology in D-Max convinced me to try it and I am definitely feeling the benefits now," says Helen.