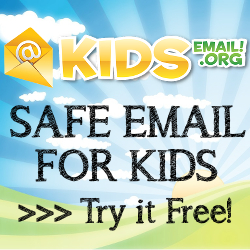 We are excited to be working with CyberWise to promote online safety
Shelley, Idaho (PRWEB) May 01, 2014
KidsEmail.org is joining with CyberWise.org to promote the importance of online safety. CyberWise constantly researches and delivers the latest and most relevant news about what kids are up to online.
"We are excited to be working with CyberWise to promote online safety. Working together is an exciting step in our desire to continue help educators, parents and kids use technology in a safe environment," says Brittany Oler, Director of Kids Email.
"It is great for Cyberwise to be partnering with valuable resource providers like Kids Email who can give parents the confidence to help kids avoid many negative consequences of digital life, such as cyberbullying, sexting, piracy, and more," adds CyberWise co-founder Cynthia Lieberman.
ABOUT KIDSEMAIL.ORG
Launched in 2009, KidsEmail.org is a safe email service designed to protect kids ages 4 to 13 from Internet dangers including cyberbullying, predators, and email from strangers. This service allows kids to only send emails to and receive emails from people on their contact list while also allowing parents to monitor email conversations. Visit http://www.KidsEmail.org to learn more and to sign up for a free trial.
ABOUT CYBERWISE.ORG: NO GROWNUP LEFT BEHIND!
Founded in 2012, CyberWise is a digital hub learning hub packed with free videos, ebooks, curated news, research plus other state-of-the-art resources for BUSY grownups who want to understand how to use digital media confidently and safely. Co-founders Diana Graber and Cynthia Lieberman are supported by a team of fellow media psychology and literacy professionals in the field. Cyberwise also produces and markets projects for high-profile companies like Verizon Wireless, Google, CSLA, iKeepSafe and more, and provides online learning courses at http://www.CyberwiseCert.com.