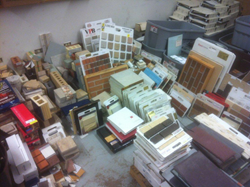 MDC's ZeroLandfill is a community effort that involves many of our partners and suppliers who share our commitment to recycle and repurpose.
Chicago, Illinois (PRWEB) April 30, 2014
McDonald's has announced its "2014 Best of Sustainable Supply" award winners in a report highlighting how its suppliers achieved significant results by identifying opportunities and applying sustainable solutions in diverse places across the world. More than 600 entries were submitted, with MDC earning a prestigious place alongside 50 other leading projects. McDonald's leadership and external subject matter experts recognized MDC for sustainability leadership in the "Community Impact" category.
As the only approved wallcovering supplier to McDonald's, MDC provides 75 percent of wallcoverings to both corporate and franchise McDonald's restaurants. MDC has been an approved McDonald's supplier for more than 15 years.
MDC sponsors and supports ZeroLandfill Chicago, whose mission is to divert expired interior design sampling materials from the waste stream and find new uses for them in the local community. School teachers, artists, scout troops, community gardeners and small theatres are the primary recipients. Carpet tiles, fabric samples, laminate chips and more are among the resources ZeroLandfill gathers and redistributes in this zero-budget, all-volunteer initiative. In its 18-month history, MDC's ZeroLandfill Chicago has saved more than 18 metric tons of expired interior design samples from local landfills.
"The submissions in the Best of Sustainable Supply report demonstrate that our suppliers go above and beyond to provide sustainable leadership, and that they take their commitment to preserving resources seriously," said Jose Armario, executive vice president, McDonald's Global Supply Chain, Development & Franchising. "We are fortunate to work with such a diverse and dedicated group of suppliers to service our 35,000 global restaurants each day."
Click here for the complete list of "Best of Sustainable Supply" winners. Click here for MDC's winning entry.
"ZeroLandfill is a community effort that involves many of our partners and suppliers who share MDC's commitment to recycle and repurpose. We are extremely proud of the ZeroLandfill project and grateful for the recognition by McDonald's," said Giselle Walsh, Director of Environmental Affairs for MDC. "Sustainability is a priority for MDC and we're always challenging the status quo and looking for innovative solutions that help us do business in an environmentally conscious way.
About MDC
MDC, located in the suburbs of Chicago, is one of the world's largest sources of wallcoverings and coatings. MDC's approximately 50-year history is a story of acquisitions combined with the ability to provide customers with exceptional value, product selection and service. Visit http://www.mdcwall.com.