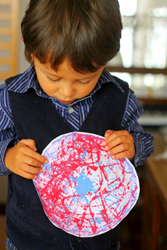 Create spectacular fireworks on Memorial Day.
Dallas, Texas (PRWEB) May 18, 2014
Memorial Day is just around the corner. A fun Memorial Day craft and ideas about learning with Legos have been released on Kids Activities Blog.
Memorial Day marks the beginning of summer. Enjoy celebrating the holiday with fun crafts for kids. Fireworks make many parents nervous when kids are around them. Kids like them but are also often afraid of fireworks.
The firework craft is both exciting and fun. The craft is easy to put together and the kids will love to watch the marbles roll around the pan. Supplies needed to make the amazing craft are marbles, washable paint, paper and a baking pan.
Place the paper inside the baking pan. Use red and blue paint to resemble the holiday colors. Place only a small amount of paint in the pan otherwise the colors will blend.
Let the kids have a blast by rolling the marbles through the paint around in the pan. Once the creation is finished, let the picture dry and start all over again.
Learning with Legos is fun for kids of all ages. The ideas to learn with Legos include making Lego impressions on play dough and let the kids investigate and find the matching pieces.
Invite the kids to a math challenge with a printable that can be downloaded on Kids Activities Blog. The printable can be used for Legos or Duplo bricks. Measuring items around the house using Lego bricks is another igneous idea.
Build a Lego castle and tape on sight words for the kids to memorize during the process. Freezing Lego figures in ice and letting the kids play archeologist will make for a fun afternoon at home.
Any Lego and baseball lover would like to learn math by setting up a fun baseball Lego field. Let the runners advance the bases based on Baseball cards.
For detailed instructions and to get additional fun ideas, check out Kids Activities Blog this week. Come get inspired to let the kids have a blast while learning.
About Kids Activities Blog
Kids Activities Blog is a website created by two moms (who collectively have 9 children), Holly Homer and Rachel Miller. Their new book published by Page Street, 101 Kids Activities That Are the Bestest, Funnest Ever! will be released June 10. It is currently pre-selling on Amazon and Barnes and Noble. Kids Activities Blog is an interactive website that publishes fun things to do with kids twice a day. It is an amazing resource for moms, dads, grandparents, caregivers and teachers to find kid-friendly activities that create memories and sneak learning into the fun.