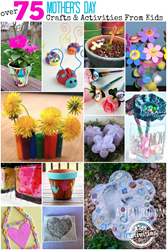 Pamper Mom with homemade lavender rosemary fizzies this weekend.
Dallas, Texas (PRWEB) May 10, 2014
Mother's Day is just around the corner. More than 75 Mother's Day crafts and a simple gel paint recipe have been published on Kids Activities Blog. It is not too late to make something special for Moms this weekend.
Kids are eager to make something special for Moms. Paper flowers, rock turtles, flower pens, and homemade garden stepping stones are among the many ideas listed on Kids Activities Blog.
Making a photo book, fingerprint flower magnets, handprint flower bags, and making coffee filter flowers will delight any mother. How about pampering Mom this weekend? Moms will love to bathe in homemade lavender rosemary bath fizzies and lavender sachets.
A laundry list of fun Mother's Day cards tops the list. Cards with fingerprints, flowers, tissue designs, and fabric strips will make the perfect Mother's Day greeting.
The gel paint recipe is one of the easiest paint recipes ever published. Ingredients needed are hair gel and food dye. The results are bright and stunning. Squeeze a couple tablespoons of gel into a disposable container. Add about 5 to 6 drops of food coloring to tint the gel. Stir it well.
The colors are phenomenal. Note that this paint is not good as fingerprint since the gel colors stain. Print out the coloring pages published on Kids Activities Blog. Use bright colored crayons as the base for the pictures.
Then apply the gel paint and watch the kids be amazed at how the colors pop out of the picture.
For detailed instructions and to get additional ideas, check out Kids Activities Blog this week. Come get inspired to have fun making things for Mom this weekend.
About Kids Activities Blog
Kids Activities Blog is a website created by two moms (who collectively have 9 children), Holly Homer and Rachel Miller. Their new book published by Page Street, 101 Kids Activities That Are the Bestest, Funnest Ever! will be released June 10. It is currently pre-selling on Amazon and Barnes and Noble. Kids Activities Blog is an interactive website that publishes fun things to do with kids twice a day. It is an amazing resource for moms, dads, grandparents, caregivers and teachers to find kid-friendly activities that create memories and sneak learning into the fun.