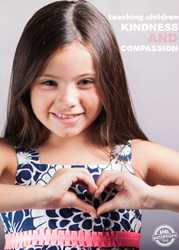 Teach kindness and compassion with fun activities.
Dallas, Texas (PRWEB) May 12, 2014
Character development is an important part of raising kids. Character development activities and fun DIY alphabet crackers have been released on Kids Activities Blog. Teach the kids life long lessons with these fun activities.
The over 10 ideas to teach characteristics of kindness and compassion include giving the kids a challenge to do random acts of kindness to strangers. These acts include writing cards and giving flowers.
Reading with the kids a selection of books about kindness that are featured on Kids Activities Blog, make the perfect starting point for the character development activities.
A set of role playing ideas that put kids into situations of kindness can teach them the importance to choosing words wisely. Make a kindness jar to keep in your home to keep kindness in the forefront of you children's mind and remind them of its importance.
Snack time is a perfect time for learning. Edible letters make a fun learning time for kids. Moms and kids alike love simple snacks after school.
Alphabet Crackers are an easy and fun way for your kids to practice making words. Supplies needed are edible markers and crackers. The fun ways to learn with Alphabet Crackers include experimenting to change letters to create new words in word families.
Putting the letters in order as you sing the Alphabet song. Giving the kids a secret message or word and they have to unscramble the letters to discover the message.
Let the kids figure out how many different words they can come up with using a handful of letters. Let them make a letter puzzle.
Other ideas include drawing a giant letter between multiple crackers and assembling the letter.
For detailed instructions and for additional fun ideas, check out Kids Activities Blog this week. Come get inspired to have a blast together with the kids this week.
About Kids Activities Blog
Kids Activities Blog is a website created by two moms (who collectively have 9 children), Holly Homer and Rachel Miller. Their new book published by Page Street, 101 Kids Activities That Are the Bestest, Funnest Ever! will be released June 10. It is currently pre-selling on Amazon and Barnes and Noble. Kids Activities Blog is an interactive website that publishes fun things to do with kids twice a day. It is an amazing resource for moms, dads, grandparents, caregivers and teachers to find kid-friendly activities that create memories and sneak learning into the fun.