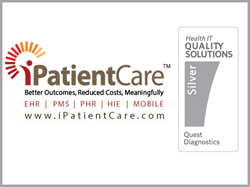 We are proud to achieve the Health IT Quality Solution Certification, it shows our commitment to deliver robust interoperability for physicians in order to improve a practice's workflow, said Shahab Shaikh, Enterprise Integration Specialist, iPatientCare.
Los Angeles, CA, (PRWEB) May 01, 2014
iPatientCare, Inc., a pioneer in mHealth and cloud-based ambulatory EHR, Integrated Practice Management and Patient Portal Solutions, announced today that its EHR (2.0) is certified as a Silver Quality Solution by Quest Diagnostics under its Health IT Quality Solutions Program (the "Program"). Quest Diagnostics is the world's leading provider of diagnostic information services.
As a certified Health IT Quality Solution, iPatientCare EHR has been recognized by Quest Diagnostics as meeting or exceeding advanced industry standards for health IT quality and for providing a streamlined, interoperable solution that enables secure clinical laboratory ordering and results reporting through Quest Diagnostics connectivity solutions.
Quest Diagnostics created the Health IT Quality Solutions Program to collaborate with providers of electronic health record (EHR) and other clinical technologies to achieve optimized levels of clinical and operational quality for the benefit of physician practices, hospitals and integrated delivery networks. The Program is designed to maximize data quality, data and business process interoperability between Quest Diagnostics and selected EHR solutions that meet Quest's high standards.
"We are very proud to achieve the Health IT Quality Solution Certification with Quest Diagnostics; it shows our commitment to the customer to deliver robust interoperability for physicians in order to improve a practice's workflow by providing coordinated care that enables better outcomes at the lowest possible costs," Said Shahab Shaikh, Enterprise Integration Specialist, iPatientCare.
To be eligible for the Program, an EHR solution must have an approved and commercially viable interface to Quest Diagnostics web services Data Exchange Service which processes both lab orders and results. An EHR solution can then qualify for one of three certification tiers—Silver, Gold, or Platinum—by meeting an increasingly stringent and comprehensive set of criteria related to EHR solution functional capabilities, implementation processes, and other mutually-beneficial business activity.
"Certified vendors have clearly demonstrated their commitment to helping healthcare providers use technology at the highest levels of quality and process excellence in order to meet a growing set of challenges relating to information technology, regulatory requirements, and industry demands," said Keith C. Drake, Ph.D., Quality Solutions Program Executive, Quest Diagnostics. The focus of iPatientCare on quality and lab interoperability validates their leadership in the marketplace." For more information on Quest Diagnostics Health IT Quality Solutions Program, visit QuestDiagnostics.com/QualitySolutions.
About iPatientCare:
iPatientCare, Inc. is a privately held medical informatics company based at Woodbridge, New Jersey. The company is known for its pioneering contribution to mHealth and Cloud based unified product suite that include Electronic Health/Medical Record and integrated Practice Management/Billing System, Patient Portal/PHR, Health Information Exchange (HIE), and mobile point-of-care solutions that serve the ambulatory, acute/sub acute, emergency and home health market segments.
iPatientCare EHR 2014 (2.0) has received 2014 Edition Ambulatory Complete EHR certification by ICSA Labs, an Office of the National Coordinator-Authorized Certification Body (ONC-ACB), in accordance with the applicable eligible professional certification criteria adopted by the Secretary of Health and Human Services (HHS).
Full certification details can be found at ONC Certified Health IT Product List.
The ONC 2014 Edition criteria support both Stage 1 and 2 Meaningful Use measures required to qualify eligible providers and hospitals for funding under the American Recovery and Reinvestment Act (ARRA).
iPatientCare's ONC 2014 Edition Meaningful Use Stage 2 Certified Complete EHR is also Designated as a Test EHR by CMS.
The company has won numerous awards for its EHR technology and is recognized as an innovator in the field, being a pioneer to offer an EHR technology on a handheld device, an innovative First Responder technology to the US Army for its Theatre Medical Information System, the first to offer a Cloud based EHR product. iPatientCare is recognized as one of the best EHR and Integrated PM System for small and medium sized physicians' offices; has been awarded most number of industry Awards; and has been recognized as a preferred/MU partner by numerous Regional Extension Centers (REC), hospitals/health systems, and academies.
Visit http://www.iPatientCare.com for more information.
Contact:
iPatientCare, Inc.
One Woodbridge Center, Suite 812, Woodbridge, New Jersey 07095
Phone: 800-741-0981 | Fax: 732.676.7667 | Email: info(at)ipatientcare(dot)com