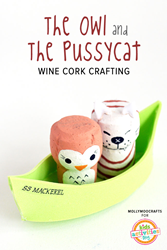 Get ready for hours of pretend playtime.
Dallas, Texas (PRWEB) May 03, 2014
Don't throw away wine corks. Get ready for adorable nursery rhyme crafts and amazing Mother's Day cookies featured on Kids Activities Blog this week. Let the wine corks come alive during storytelling time.
Wine corks make great material for simple and quick crafting. Using them for storytelling puts another dimension into the fun craft. The simple idea to combine wine corks and nursery rhymes opens limitless possibilities.
Materials needed are wine corks, paint, glue, and craft foam. Begin by painting the wine corks with a base coat. Then, with a black sharpie marker, draw on the little owl and pussycat details. Do not forget the eyelashes.
For the pea green boat cut the simple shapes for the base and sides out of green craft foam. Glue together with a glue gun for instant results or use glue dots. Then, print out the story poem listed on Kids Activities Blog and get ready for fun pretend play together with the kids.
Grab the kids, some cookies, frosting and candy, and let them get creative making sweet Garden Stone Cookies to celebrate Mother's Day. The frosting covered cookies look amazing. Little hands will have an easy time decorating these cookies. Kids can be artistic or messy, just as long as they are having fun.
The garden stone cookies can be decorated in so many different ways, and using candy like M&M's, Skittles, Candy Coated Sunflower Seeds, Chocolate Rocks, Reese's Pieces, Starburst, and Confetti Sprinkles will make the cookies colorful and festive.
Ingredients needed to make the cookies are 2 packs of sugar cookie dough, a tub of Betty Crocker Hershey's Cookies 'n' Cream Frosting, and a couple of Oreo cookies.
Simply bake the cookies according to the instructions and let them cool down. Mix the frosting together with the crushed Oreo cookies to make stone colored frosting.
Then, let the kids' imagination roar decorating the garden stone cookies.
For detailed instructions and to get additional fun ideas, check out Kids Activities Blog this week. Get inspired by the amazing ideas from seasoned Moms this month.
About Kids Activities Blog
Kids Activities Blog is a website created by two moms (who collectively have 9 children), Rachel Miller and Holly Homer from June Cleaver Nirvana. It is their daily goal to inspire parents and teachers to play with kids. This interactive website publishes simple things to do with kids twice a day. Kids Activities Blog is a great tool for moms and teachers to find kid-friendly activities that create memories and sneak learning into the fun.