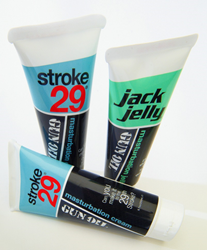 Personally, I think every month should be National Masturbation Month; and National Intercourse Month; and, National Oral Sex Month.
Las Vegas, Nevada (PRWEB) May 01, 2014
Empowered Products, Inc., [OTCBB: EMPO] maker of the popular PINK® and Gun Oil® personal lubricants, announced today an array of products for men and women specifically for use in solo or mutual masturbation in celebration of May as National Masturbation Month.
Check out Empowered Products' complete Gun Oil and PINK product lines at: http://www.gunoil.com and http://www.pinkforus.com
National Masturbation Month is an unofficial but increasingly popular worldwide celebration each May attributed to San Francisco-based sex store Good Vibrations and its staff sexologist Carol Queen, Ph.D in 1995. Good Vibrations proposed creation of such a day (which later became a month) in response to the dismissal of U.S. Surgeon General Joycelyn Elders who stated at a World AIDS Day presentation that masturbation should be taught as a method of discouraging risky sexual activity among youth.
For an in-depth look at masturbation in America, we suggest a great article by freelance writer Richard Zombeck, originally published May 20, 2013 in HuffingtonPost.com (http://huff.to/1fqg8FR).
Empowered Products offers an impressive array of best-in-category products under its Gun Oil and PINK brands for masturbation use by men, women, and couples. Three of our most popular are:

Gun Oil Stroke 29 Masturbation Cream. Penthouse Magazine named this the best masturbation product on the market, awarding it four out of four stars in all categories. It has a thick creamy consistency upon initial application, but changes into something completely different (and awesome) when friction and your exothermic energy kick in.
Gun Oil Jack Jelly Masturbation Jelly. Very popular with Gun Oil users, this high-grade, no-frills, oil-based formula combines Safflower oil and Dimethicone for superior pleasure, plus Aloe Vera and Vitamin E to minimize skin irritation, soften skin, and protect tissues.
PINK Frolic. The perfect partner for women who love their bedroom toys. This purified water-based lubricant provides a thicker, long-lasting feel than other water-based formulas. Frolic is highly concentrated and liberally coats your toy of choice so lubrication goes where you want it and nowhere else.
"Personally, I think every month should be National Masturbation Month; and National Intercourse Month; and, National Oral Sex Month," said Empowered Products president and CEO Scott Fraser. "It's easy to get up and go to work every day knowing our company and products are helping millions of people fulfill their most sensual desires."
Product Lines and Availability
Gun Oil and PINK personal lubricant products are available in silicone, water-based and hybrid formulas. The full line of Gun Oil products can be purchased online at http://www.GunOil.com, and PINK products at http://www.PinkForUs.com. Selected products are available nationwide at Walgreens, CVS and Rite-Aid stores, and in selected Walmart, Kroger (and Kroger family of stores), Meijer and H-E-B retail locations, and online at Target.com, CVS.com, and Walgreens.com. A complete list of major retailers can be found at http://www.GunOil.com/retailers and http://www.PinkForUs.com/retailers. PINK and Gun Oil products also can be found in many adult retail and online stores. All Gun Oil and PINK products are Made in USA.
About Empowered Products, Inc.
Empowered Products, Inc. [OTCBB: EMPO], with headquarters in Las Vegas, Nev., has forged a leading presence in the global wellness industry with the development, manufacture, and distribution of high-quality sexual enhancement and personal wellness products for men and women. The Company's branded PINK and Gun Oil lines of lubricants and supplements are available in more than 30,000 retail locations in more than 30 countries. For more information, visit the company website at http://www.EmpoweredProducts.com or call (800) 929-0407.