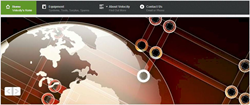 A 21st Century Business ModelVelocity's business model is a hybrid, blending expertise in distribution, reselling and manufacturing, and built around trends and technologies that are shaping the new global business environment.
Austin, Texas (PRWEB) May 06, 2014
The site has over 500 suppliers with part types supporting wafer fab, test and back-end equipment for immediate sale. Velocity plans to add new and refurbished equipment for sale in the coming months.
Velocity's business model also provides sale of suppliers' products with flexible terms, depending on the specific needs of the supplier.
"Today's launch marks the beginning of a unique business model supporting the Semiconductor Device and Equipment market," said Dennis Riccio, Principal of Velocity Semiconductor Equipment. "We expect to add many new products to our offering, prior to the Semicon West Trade show being held at the Moscone Center, San Francisco in July 8th through the 10th."
About Velocity Semiconductor Equipment
Based in Austin, Texas, Velocity Semiconductor Equipment is an innovator of advanced value chain solutions for both manufacturers and suppliers in Semiconductor Equipment and Solar Equipment industries. We offer a flexible, efficient and cost effective channel for buying and selling manufacturing goods and services, and feature a powerful e-commerce platform to deliver always-on global reach, breadth and speed.
For customers with specific volume or strategic sourcing strategies, Velocity offers secure, private Extranets. Manufacturers can choose offerings from our growing network of proven, certified partners, or select those that we develop ourselves to support emerging technologies or meet unfilled market needs.
Velocity has joined the Fab Owners Association based in Silicon Valley and will be attending the quarterly meeting hosted by IBM in Burlington, Vermont on May 7th and 8th.