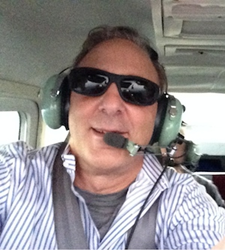 AirPooler makes it very affordable for passengers to travel in a private plane and helps keep pilots flying
New York, NY (PRWEB) May 01, 2014
Car pooling has been an economical and environmentally-friendly way to get to work for years. But now the same concept is about to take off from a small airport near you. AirPooler is the brainchild of entrepreneur Steve Lewis, who wanted to help pilots subsidize the cost of flying, with passengers who wanted an alternate way to get to the same destination. Mr. Lewis recently went One-on-One with ExpertFlyer to explain how AirPooler works, how it got off the ground, and how interested passengers can connect with pilots to hitch a ride.
While AirPooler is an interesting alternative to commercial air travel, it was not created to compete with it. For starters, the planes available through AirPooler are small planes (single or double prop) that fly to smaller, general aviation airports that are almost never served by commercial airlines. In addition, Lewis notes that weather is a big factor for smaller planes and flights can change or even be canceled due to weather. AirPooler is a different option that people can use to expand the range of their regional leisure travel, such as a quick getaway on a holiday weekend.
Launched in March, AirPooler is currently available only in California with plans to expand to other states over time. News of the service spread quickly and the company has received hundreds of queries about when the service will be coming to their town.
"The cost of flying has continued to grow with increasing fuel prices, forcing many pilots to cut back dramatically on their flying time and matching them with travelers helps defray some of those costs," Steve Lewis explains. "Federal regulations prohibit private pilots from taking any compensation but do allow them to share certain trip costs on a pro-rata basis with passengers in cases where pilot and passengers share a common purpose for making the trip. This makes it very affordable for passengers and keeps pilots flying."
"AirPooler is an interesting way for travelers to coordinate last-minute weekend excursions without the added expense typically associated with last-minute air travel," says Chris Lopinto, president and co-founder of ExpertFlyer.com. "And, depending on the distance traveled and the number of people traveling, it can actually be a very economical way for friends and family to get to a weekend destination."
About AirPooler
AirPooler was founded in 2013 by Steve Lewis and Andy Finke with a mission of making general aviation more accessible and affordable. The Airpooler platform lets pilots (of singles and twins) and non-pilots easily find one another to share expenses on flights the pilots would be doing anyway. It lets pilots reduce their cost of flying and lets others on the flight (who might also be pilots) get somewhere privately for relatively little. AirPooler is free for pilots and fun for all. Everybody wins.
About ExpertFlyer.com
Each month, ExpertFlyer's One-on-One blog goes face-to-face with the travel industry's leading decision makers to discuss and address topics relevant to many of today's business and frequent travelers.
ExpertFlyer.com was conceived and created by an eclectic team consisting of a veteran elite tier frequent flyer, an airline captain and corporate travel manager, and information technology professionals to deliver a 24/7 real time powerful air travel information service. The company provides its subscribers and corporate travel managers alike with a complete, concise and efficient way to access the ever-changing details of worldwide air travel information. For more information, please visit expertflyer.com.
Stuck in the middle seat again? Download the free Seat Alerts app from ExpertFlyer and get the window or aisle seat without hassle or frustration.
# # #