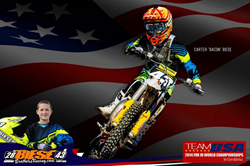 This is going to be an incredible year for Biese Brothers Racing!
Plymouth,WI (PRWEB) May 06, 2014
After an AMA official press release and news from the Biese Brothers racing team, Millennium Technologies is proud to announce the selection of Carter Biese to represent the United States of America at the Jr. FIM Motocross World Championships this summer in Bastogne, Belgium. Biese will participate in the 10-12 year old 65cc class August 5-11.
The event is organized by the Fédération Internationale de Motocyclisme (FIM) which is based in Miese, Switzerland. 2014 will mark the 58th FIM Motocross World Championship season.
In a statement release to their sponsors the Biese family expressed there excitement.
"We have never been this excited to send a race report in our entire life and the race has not even happened yet!"
The news represents an exciting new chapter in the life of Biese Brothers Racing, which consists of brothers Carter and Jordan Biese. The duo has participated in a wide series of events within the U.S., many of which have been promoted and documented on Millennium Technologies' websites and social media outlets. Millennium Technologies would like to extend a heartfelt congratulations to Carter and the team, and is looking forward to Biese Brothers participation in the event.
In the statement, the team concluded with "This is going to be an incredible year for Biese Brothers Racing!"
To learn more about the Biese Brothers, you can visit their website at http://www.biesebrothersracing.com.
You can also views their sponsorship page and learn about the services Millennium Technologies has provided the Biese's and other teams at http://www.mt-llc.com.