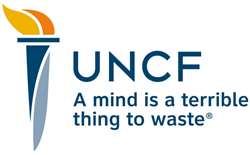 New Orleans, LA (PRWEB) April 30, 2014
UNCF and Mayor Mitchell Landrieu were joined by more than 800 civic, business and education leaders at the city's inaugural UNCF Mayor's Masked Ball held on March 29, 2014, in the Empire Ballroom at Hyatt Regency New Orleans. The sold out, black tie affair raised more than $1.3 million to benefit thousands of college students and support local UNCF Member Institutions – Dillard University and Xavier University of Louisiana.
"The UNCF Mayor's Masked Ball represents a new paradigm in investing in our children's futures. And that investment of more than $1.3 million, is an event record that will provide crucial support to New Orleans students and our UNCF Member Institutions here in the city," said Michael L. Lomax, Ph.D., President and CEO, UNCF. "I want to thank Mayor Landrieu, Leo Denault of the Entergy Corporation, and the numerous businesses and individuals whose generosity and commitment to education helped make the Mayor's Masked Ball one of the city's premier social and fundraising events."
Michael O. Smith, General Manager of Hyatt Regency New Orleans, served as the chairperson of the 2014 UNCF Mayor's Masked Ball and spearheaded the introduction of the Mayor's Masked Ball concept in the city of New Orleans. "Our key objective was to give this initiative a sustainable platform, driven by diversity and Hyatt's commitment towards a Higher Purpose." A record-breaking 800 guests attended the city's inaugural UNCF Mayor's Masked Ball, including a host of dignitaries and celebrity guests including New Orleans native, Anthony Mackie and Grammy Lifetime Achievement Award Winners, The Isley Brothers.
The Entergy Corporation served as the event's Presenting Sponsor, while the company's Chairman and CEO Leo Denault presented the keynote address. Marquis Sponsors included Hyatt Regency New Orleans, Shell, and Mardi Gras Productions. Co-founding chairpersons, Alden J. and Rhesa McDonald, were presented with the UNCF Masked Award for their work in creating in creating the successful UNCF/Liberty Bank Ball in the City over 20 years ago. Jazz legend Ellis Marsalis was also honored with the UNCF Masked Award for his contributions to education and music in New Orleans and across the country.
Under the coordination of host Chef Eric Damidot of Hyatt Regency, guests were treated to a night filled with world-class cuisine with dishes prepared by top New Orleans celebrity chefs Leah Chase of Dooky Chase Restaurants, Tory McPhail of Commander's Palace, Chris Wilson of Emeril's Restaurants, and Brian Landry of Borgne Restaurant. The evening also included live and silent auctions, along with spectacular entertainment by Davell Crawford and a special performance by The Isley Brothers.
"We are extremely grateful for the commitment of all of our supporters and the investment they are making in better futures for students and building a college ready culture in New Orleans, that will ensure a robust pipeline of qualified college graduates," said LaJuana Chenier, Regional Development Director, UNCF.
For information about how you can support the efforts of UNCF, please contact the New Orleans UNCF office at 504.581.3794.
About UNCF
UNCF (United Negro College Fund) is the nation's largest and most effective minority education organization. To serve youth, the community and the nation, UNCF supports students' education and development through scholarships and other programs, strengthens its 37 member colleges and universities, and advocates for the importance of minority education and college readiness. UNCF institutions and other historically black colleges and universities are highly effective, awarding 20 percent of African American baccalaureate degrees. UNCF administers more than 400 programs, including scholarship, internship and fellowship, mentoring, summer enrichment, and curriculum and faculty development programs. Today, UNCF supports more than 60,000 students at over 900 colleges and universities. Learn more at http://www.uncf.org.
####