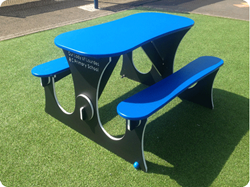 This is one of the largest projects we have undertaken, we worked really hard on the design and can't wait to start building.
Bolton, Lancashire (PRWEB) April 30, 2014
Playground Imagineering are a specialist school playground design company located in Bolton, Lancashire.
The play equipment firm are vastly experienced in all aspects of playground design which includes the design, build and installation of their own brand of playground furniture.
The playground suppliers also work for local authorities, theme parks, garden centres, pubs and restaurants.
The business was established by Robin Harwood in 2008 and was formerly known as Harwood Imagineering, later being re-named Playground Imagineering.
Since the company's inception Playground have become one of the UK's premier suppliers of picnic benches for schools.
Unlike many other firms (who often import play equipment) the Bolton business design and build in the UK.
Playground have a wide and varied product range which includes bespoke playground furniture or 'off-the-shelf' pieces which can now be ordered via their brand new E Commerce website.
Director, John Hughes was asked, "What make Playground Imagineering different from hundreds of similar firms?"
John answered, "We provide almost everything playground related including the design, build, project management and installation. Our playground pieces and materials used to build them are made in the UK. Our clients are also provided with their own dedicated project manager to make sure the project runs smoothly."
After a lengthy tendering process Playground are pleased to announce that they have been chosen to design, build and install playground equipment at the new 4000 square metre playground at St. Austin's School in St. Helens, Merseyside.
The Lancashire firm went up against two other much larger organisations including Playdale and Play Sound.
Steve Troughton of Cunliffes Property and Construction Consultants chose Playground to tender after consulting the approved supplier list provided by St Helens Council.
The ambitious project is due to start in June this year.
"We were delighted to win the tender as we were up against two much larger firms. Not only were we the most competitive on price but our ideas and designs were preferred. Feedback highlighted our originality and careful thought given to each of the playground zones," said John.
The impressive new play area will be split in to six zones which include: An upper area, early years learning section, a sensory route way, running track, a central area and a nature trail.
Zone 1 will feature wooden playground furniture including: Tree seats, benches and picnic tables.
Zone 3 will have a circular log planter and sign post as the centre piece as well as a pergola and various wooden tunnels.
Zone 4 (The Running Track) will feature climbing ladders, storage units, a traverse wall and various adventure trail pieces.
The Nature trail, which is zone 6 will feature wooden mushroom seating and various hand carved wooden animals.
Mr Hughes said, "This is one of the largest projects we have undertaken, we worked really hard on the design and can't wait to start building!"