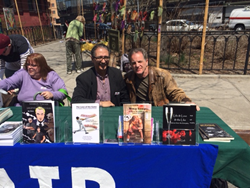 Boulevard Books is a community resource!
Staten Island, New York (PRWEB) May 01, 2014
The next step in the evolution of publishing took place on Saturday, April 26th, at the St. George Arts Festival. Boulevard Books showcased the importance of reading and literature through excerpts from Samson Turner & the Legend of Hercules by Avi Gvili; The Love of The Game: The Numbers Behind our National Pastime by Frank Mackay; Steven or Do You Think You Need to Use the "N" Word by Greg Dickerson.
For author interviews and events please call 917-825-0390 or agvili(at)boulevardbooks(dot)org.