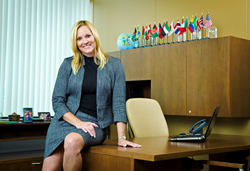 I think it is important for women to learn how to effectively use their personal and professional networks for their own career advancement.-Lori Blaker
Rochester Hills, MI (PRWEB) May 02, 2014
Achieving career success by learning how to leverage personal and professional networks was the focus of the Auburn Hills Chamber's women's leadership event. Lori Blaker, President and CEO of TTi Global spoke about the art of utilizing a network to build success. Blaker drew from her own business experience when she shared, "I think it is important for women to learn how to effectively use their personal and professional networks for their own career advancement. This come naturally for most businessmen, but too often women, even professional women are often reluctant to ask directly for what they need. It's a cultural conditioning that takes a conscious effort to overcome. We need to get better at building our own network of support and learn to share contacts and information freely."
Denise Asker, Executive Director of the Auburn Hills Chamber commented on the event. "I hope that this event helped women gain confidence to develop the skills they needed to use the networks they've built over a career, to further their goals. Lori Blaker was an excellent keynote speaker, as she has succeeded in the development of a global company by putting these tools to effective use."
The Women's Lunch and Learn networking event also included a group training activity, a community service element, and networking. It is sponsored by Oakland University, Faurecia and DBusiness Magazine. As a part of the Auburn Hills Chamber's Spring Serve, which runs throughout the month of April, women were encouraged to bring gently used professional clothing to the event to support the Neighborhood House's Clothes Closet. The Clothes Closet helps women throughout Auburn Hills and Rochester return to gainful employment through the provision of clothing and other necessary resources.
The Auburn Hills Chamber of Commerce is where business, educational, cultural and civic leaders collaborate to create a world-class business community. The Chamber represents more than 300 organizations and offers business assistance, networking and educational opportunities, community engagement and marketing support. Learn more at http://www.auburnhillschamber.com.
Lori Blaker is an award-winning international business leader and she leads by example. TTi Global has ranked consistently among the "Top 25 Woman-Run Businesses in the USA" as recognized by the Women's Business Enterprise National Council. Blaker heads of one of the fastest growing women-led organizations in North America. Her leadership skills continue to be recognized by the business community. In 2012 President/CEO Lori Blaker received the "Leader of Leaders" Award from Leadership Oakland.
#####
TTi Global provides staffing, learning, research and consulting solutions to industries across various sectors with automotive as a core focus. TTi Global oversees operations on five continents with offices spanning the globe, which include Australia, Brazil, Canada, Chile, China, India, Japan, Mexico, Peru, South Africa, Thailand, Venezuela, UK and most recently Afghanistan.
With a staff of over 2000 employees in international operations, they offer a wide range of services, tailor made to drive business goals, including business consulting, research, staffing, workforce development and learning solutions. TTi Global world headquarters are located in Rochester Hills, Michigan.