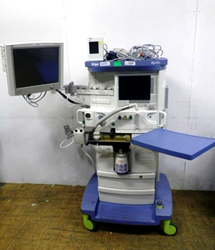 'We are a one-stop-shop,' said CEO Erik Tivin.
Las Vegas, Nev. (PRWEB) May 01, 2014
Centurion will be hosting a live on-site and online medical equipment auction on May 6 at their Las Vegas warehouse located at 4606 Andrews St. Ste A2 and A3, Las Vegas, NV 89081.
The sale, which consists of equipment from hospitals, surgery centers, and medical facilities from around the United States, will begin promptly at 9 a.m. PDT.
Buyers will find items of all types including anesthesia, endoscopy, lab, radiology, and surgery equipment.
"We are a one-stop-shop," said CEO Erik Tivin. "This is the place that an international buyer can fill a container and get everything they could possibly need all in one place."
Among the sale's highlights are two Drager Apollo Anesthesia systems, a Philips BV-300 C-Arm, and a Stryker 1188HD Tower.
Those interested in participating on-site will also have the option to personally inspect the lots; inspection will be held on May 5 from 8 a.m. until 4 p.m.
For complete catalogs and registration, visit http://www.centurionservice.com.
About Centurion Service Group, LLC
Centurion hosts bi-monthly medical auctions out of their Chicago and Las Vegas warehouses. Every year, over 100,000 lots of equipment are sold due to hospital closures or relocations. In addition to their auctions, CSG also offers certified appraisals, inventories, and asset reallocation software.