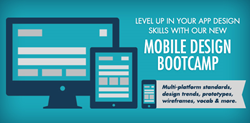 Atlanta, GA (PRWEB) April 30, 2014
Big Nerd Ranch, known globally for its highly effective immersive bootcamps in app development, announced today the addition of its new Mobile Design Bootcamp to be held at Big Nerd Ranch West, June 9-13. Big Nerd Ranch adds this new, advanced and in-demand course to its already expansive programming bootcamp offerings taught by its talented team of expert developers and designers.
"Learning is at the core of everything we do at Big Nerd Ranch, and with the addition of this new Mobile Design Bootcamp, we're continuing to offer sought-after and relevant courses to our current and future students," said Aaron Hillegass, founder and Chief Learning Officer of Big Nerd Ranch.
"To quickly learn a new technology, we offer the three things you need to be successful: the right materials, a quiet place free of distractions and an expert to help you when you get stuck. We partner with our students to tackle difficult things and then welcome them into our Nerd community for a lifetime of learning."
The five-day Mobile Design Bootcamp, taught by Big Nerd Ranch's team of in-house design and UI/UX experts, focuses on designing usable interfaces that employ standard interface conventions specific to iOS and Android. The class will be taught from a technical perspective, with a secondary focus on aesthetics. Once the standard conventions are understood, the class will explore how to customize the look and feel of an app in order to enhance interactivity and set it apart from standard apps. Best practices for wireframing, prototyping, asset creation and asset delivery to developers will be observed throughout the course.
After completion of the mobile design workshop, students will be able to:

Use touch gestures and other input methods available in iOS and Android.
Identify expected aesthetics and interaction patterns.
Recognize hardware features available on iPhones, iPads and Android devices.
Create pixel-perfect, scalable UI elements for iOS and Android in Photoshop.
Name, document and deliver graphic assets to developers.
Optimize artwork for size and performance in iOS and Android apps.
Create interactive prototypes without coding.
Keep up with current design ideas.
Make informed mobile typography choices.
Communicate design ideas using proper vocabulary and wireframes.
Big Nerd Ranch teaches a variety of programming bootcamps and is known for expert instruction from professional developers and designers, hosted in distraction-free environments that free students to focus on learning. Bootcamps are conveniently held outside of Atlanta and on the Central Coast of California.
Tuition is all inclusive and includes room and board, shuttle service to and from the airport, course materials, certificates of completion and onsite lab hours with the expert instructors.
Bootcamps can also be taught at corporate locations as private training classes.
For information about Big Nerd Ranch's bootcamps or to enroll, call 770-817-6373 or email training(at)bignerdranch(dot)com.
Big Nerd Ranch is a U.S.-based training and app development company known for its immersive courses on app development and its best-selling series of books, the Big Nerd Ranch Guides. Retreat-style courses are held in Atlanta and on the Central Coast of California. Corporate courses are held at client sites globally. The Big Nerd Ranch mobile app division develops apps and software for corporate clients worldwide.
For more information, visit bignerdranch.com or follow Big Nerd Ranch on Facebook, Google+, LinkedIn and Twitter.