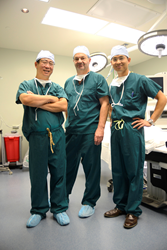 Endoscopic spine surgery is an alternative option to traditional open spine surgery.
(PRWEB) May 01, 2014
It is paramount to patients to understand their options. The truth is, considering any back operation can be a formidable decision. Traditionally, back surgeries involve the surgeon making a large incision and disturbing muscle and tissue in order to visualize the intricate structures of the spine. This requires general anesthesia and a lengthy recovery. But the medical fields is always evolving and in walks modern technology to provide an alternative. It is called endoscopic spine surgery. It is also called minimally invasive spine surgery. Either way, it is a significantly less intrusive procedure with very little downtime.
Today, spinal surgeons are performing a variety of Endoscopic techniques depending on the area causing the problem. There are the three main procedures being performed by minimally invasive spine surgeons like Dr. Liu and his team at Atlantic Spine Center:
Endoscopic Discectomy. Used in treating the discs that pad each of our vertebrae. An endoscopic discectomy can treat herniated or "bulging" discs, disc tears, and other problems in the discs of the spine. During this procedure, the surgeon removes or helps repair damaged material. He may also use a laser to further treat the damaged disc material and relieve painful affected nerves affected by disc pressure.
Endoscopic Foraminotomy. Performed when correcting a problem with the intervertebral foramen. The foramen are the openings (holes) in the spinal column that feed the nerve bundles through the spinal column. The procedure is used to relieve conditions such as nerve compression and pain caused by foraminal stenosis (a narrowing of the foramen). In this type of endoscopic spine surgery, the surgeon might use mechanical tools, a laser or radiofrequency waves to remove the problematic area releases the compressed nerve (or nerves) and providing pain relief.
Endoscopic Facet Rhizotomy. This procedure is focused on the facet joints of the spine. The facet joints are the small stabilizing joints located between and behind the vertebrae, which allow the spine to bend and twist. An endoscopic facet rhizotomy is used to treat the pain caused by facet joint injuries or degeneration. Through this procedure, the surgeon identifies the affected area and its nerve branches, and then uses a laser to reduce the pain transmission.
Dr. Liu also states that benefits of these endoscopic treatments are: a procedure that last less than an hour, an incision is only about an inch long, no hospital stay, a quick home recovery of just a few days, minimal pain medications needed, and range of motion is not further limited by having the procedure.
Endoscopic spine surgery is not the end all treatment for every situation requiring spine surgery, but these endoscopic procedures are often a very viable option for several common spine conditions.