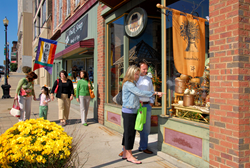 Read more about selected attractions in West Virginia's Main Street and ON TRAC communities.
Charleston, W.VA (PRWEB) April 30, 2014
Spring brings season of fun and festivities in Main Street and ON TRAC communities.
Chase the last of your winter blues away with a fresh season of events and celebrations in West Virginia Main Street and ON TRAC communities. Pick your favorite activities from a selection that includes art festivals to wiener dog races, neighborhood spring cleaning to garden shows and farmers markets.
Main Street West Virginia partners in projects to restore industrial sites to economic life.
After a career as an industrial or commercial site, some locations need a makeover to spring back into a useful new life.
Several sites around the state are getting a helping hand from Main Street West Virginia and the Northern West Virginia Brownfields Assistance Center (NBAC). They are partnering through the NBAC's West Virginia Redevelopment Collaborative (WVRC) to remediate project sites in participating Main Street and ON TRAC communities. The WVRC assembles multi-disciplinary teams to give communities the expertise and guidance needed to redevelop the property for the greatest economic, environmental or social good.
Read more about selected projects in Martinsburg, Berkeley County; Fairmont, Marion County; Charleston, Kanawha County; and Parkersburg, Wood County.
Main Street West Virginia is a program of the West Virginia Development Office. It focuses on economic development of historic downtown and neighborhood commercial districts by providing technical services, design assistance and continuous training of board and committee members and program managers using the National Trust for Historic Preservation's Main Street Four-Point Approach®. A creation of Main Street West Virginia, ON TRAC (Organization and Training for Revitalization and Capacity) helps towns with community improvement and development.