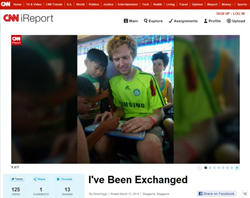 Before I came abroad, I was a shy engineering student … Singapore has changed that - Ethan Higgins
Daytona Beach, FL (PRWEB) May 01, 2014
Somewhere in between teaching Cambodian children to write letters, cooking with Singaporeans and jamming on guitars with students from South Korea, Canada and the Philippines, Ethan Higgins realized he was "evolving."
"Everyone who lives must die. But not all who die have truly lived," the Embry-Riddle Aeronautical University Prescott Campus sophomore wrote in an essay about his time abroad. The piece was published in March on CNN iReport - http://ireport.cnn.com/docs/DOC-1105694 - and responded to by Presidential First Lady Michelle Obama (her comments below).
More students at Embry-Riddle are seizing that opportunity to explore the world. The numbers prove it.
According to Prescott Campus Study Abroad Director Kelly O'Brien, enrollment in Summer Abroad Faculty Led Programs jumped from 36 students two years ago to 90 this summer. At the Daytona Campus, participation also more than doubled, from fewer than 50 two years ago to 100 in 2013. As for the fall semester, nine Daytona students will head out for study in the fall — compared to three last fall.
"Everything's growing," Daytona Campus Study Abroad Director Sue Macchiarella said, "from the incoming to the outgoing."
When Macchiarella became Daytona's director of Study Abroad in 2011, she says she decided to run the program like a business — all about "publicity, publicity, publicity."
"We went to the students," she said. "We didn't sit in the office and wait for them to come to us. We went to clubs, a Faculty Senate [session], put fliers everywhere … [created] a Facebook page."
Both directors also plug Study Abroad at every orientation, University 101 course and Preview Day, a twice-yearly campus event where prospective students get a firsthand look at the university.
"I'd never really been out of the country," said Daytona Beach Aeronautical Science senior Mindy Corbitt, who studied in New Zealand last fall and currently works on campus. "It really got me out of my comfort zone. Now, out of my comfort zone is my comfort zone."
Unfamiliar with electrical converters her first week in New Zealand, Corbitt and a friend blew an outlet in their room — and then another, and another. And when they tried one more — it killed power to the entire floor.
"Everyone was saying, 'It was the Americans!'" Corbitt said, laughing.
Awkward as it was, the experience forced her to meet (and apologize to) her dorm mates. Almost without intending to, she made friends. She adapted. She grew.
Scholarships have also made travel a more viable option for students.
Prescott has produced six abroad scholarships this year, while Daytona Beach had 13, in addition to its Air Traffic Management summer program being recognized by the Institute of International Education last year.
"The money is out there," Higgins says. "And the experiences will pay you back tenfold."
Students travel abroad in groups, taking courses in two- to five-week summer programs or full semester blocks. But studying abroad isn't just about academics. It's about another kind of learning.
"Before I came abroad, I was a shy engineering student … Singapore has changed that," Higgins wrote in his iReport on CNN. "Exchange has provided me with the opportunity to face years' worth of new experiences in just five months … and it is perhaps the best choice I have made in my life."
America's Presidential First Lady Responds to Embry-Riddle Student
Higgins posted a video in his CNN iReport which posed a question to Presidential First Lady Michelle Obama: "How can we, as students, help push our fellow students and the next generation abroad? How can we help you in your efforts to make the United States a more worldly and open-minded nation?"
She responded online with the following statement:
"I think so many people in your generation already get it in ways that people in my generation didn't get it. One thing I shared during my speech here in Peking (University) was that when I was in college, I never took advantage of the opportunities to study abroad. Some of it was because I was afraid. Some of it was because I didn't know what opportunities existed. Some of it was because I thought the best thing I could do was finish my degree, get out there in the world and make money as fast as I could. But now, more and more young people are coming to college with a broader sensibility. I think that has a lot to do with the fact that people have access to the Internet. You guys are seeing the world through eyes that I never had access to when I was your age.
"I would just encourage you to continue to be a voice for the importance of travel and stepping outside of your comfort zones to the extent that you're mentoring other young people where you're from, going to schools, encouraging young people to learn new languages and not be afraid to try new things, even if it's as simple as going to another community and trying a different kind of food.
"We live in the United States of America, where there's almost every culture, every language you can imagine right here on our soil. We can start by experiencing the diversity in our own communities. One good way to do that is through service to the community. But I have the utmost of confidence in your generation. You guys are already making me and my husband very proud. Just keep up the great work."
For more information on the Study Abroad Program, call the Prescott Campus at (928) 777-3774; call the Daytona Beach Campus at (386) 226-7740.
About Embry-Riddle Aeronautical University
Embry-Riddle Aeronautical University, the world's largest, fully accredited university specializing in aviation and aerospace, is a nonprofit, independent institution offering more than 70 baccalaureate, master's and Ph.D. degree programs in its colleges of Arts and Sciences, Aviation, Business and Engineering. Embry-Riddle educates students at residential campuses in Daytona Beach, Fla., and Prescott, Ariz., and through the Worldwide Campus with more than 150 locations in the United States, Europe, Asia, and the Middle East. The university is a major research center, seeking solutions to real-world problems in partnership with the aerospace industry, other universities and government agencies. For more information, visit http://www.embryriddle.edu, follow us on Twitter (@EmbryRiddle) and facebook.com/EmbryRiddleUniversity, and find expert videos at YouTube.com/EmbryRiddleUniv.