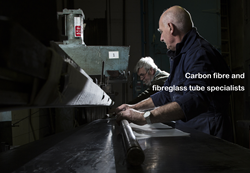 Our knowledge and experience of tube rolling technology is second to none.
Clonakilty, County Cork (PRWEB) April 30, 2014
The fibreglass tube suppliers are based in Shannonvale, Clonakilty, County Cork, Ireland.
Shannonvale Fibre Tubes was established in 1999 by Managing Director John O'Sullivan.
John studied plastics engineering at Athlone IT, later graduating from the Plastics and Rubber Institute (London) in 1980.
Shannonvale have been carbon fibre tube manufacturers and fibreglass tube suppliers since 1999.
The Ireland-based composite tube specialists supply various industries some of which include: electrical, radio communications, cryogenic, and sporting goods.
John was asked, "What makes your company different?"
He answered, "Our knowledge and experience of tube rolling technology is second to none. We have a 'hands-on' philosophy that ensures we work closely with customers to complete projects of any size."
Mr. O'Sullivan added, "Because we are a relatively small business, we are more flexible than many of our competitors. We are able to take on smaller projects as well as cope with larger ones. Unusually for the industry, we can also manufacture in lengths of up to to four metres (when the industry norm is 1.22 metres), this gives us a real edge."
Shannovale are ISO 9001 accredited and now part of the Langtec Group which they joined in 2011.
Langtec (based in Lancashire, in the UK) manufacture similar products to Shannonvale but with a more international customer base.
The composite tube manufacturers have recently launched a brand new website.
The site went live in March and was designed and built by web design company, Vizcom.
The Lancashire-based web designers have also been chosen to optimise the website and to concentrate on making sure Shannonvale appears on the first page for a select number of key phrases.
Langtec organised the web design project and had previously used Vizcom for their own site and optimisation.
Lee from Langtec said, "As Shannonvale didn't have a website already (or a company in mind), we decided to use Vizcom as they already work for us."
The new website has been built using the CMS (Content Management System) Wordpress which allows the user to alter text, add images, and create new pages.
A banner slide show (which features prominently on the home page) contains seven banners which highlight Shannonvale's services and unique selling points.
A simple call back form features in the website's header and is designed to appeal to visitors who are viewing the site out of office hours.
As part of the optimisation process, Vizcom conducted keyword research using Google's keyword suggestion tool, Wordtracker and Moz.
Vizcom advised Langtec that as Shannonvale didn't already have a website that choosing a more search engine friendly domain name would make sense.
"If we believe that a new domain name will be advantageous to the client, then we always recommend it. Sometimes it can be tricky to persuade a customer to choose a domain name which is different from their company name but as we have been working with Lee at Langtec for some time now he was open to our idea," explained Dan (Director at Vizcom Design).
"We chose the domain name carbonfibretubesuk as this is a popular search term and one of the major products that Shannonvale specialise in. The site is still branded using the Shannonvale logo and colour scheme though so as not to confuse people who are searching for Shannonvale," he added.