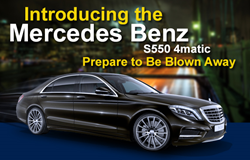 We're very excited to be celebrating the onset of summer with these hot new luxury vehicles.
New York, New York (PRWEB) April 30, 2014
Action Car Rental announced this morning that they will be adding four new luxury vehicles to their fleet this summer: the 15 passenger Mercedes Sprinter Van, the Mercedes-Benz S550, the Porsche Boxster convertible and the new 2014 Chevrolet Corvette Stingray. The vehicles, which will compliment an already extensive rental fleet, are available to rent now, with the exception of the Porsche and Corvette. They will be available mid-May.
"It's been a long, cold winter," said Action Car Rental President Harry Hollander. "Needless to say, we're very excited to be celebrating the onset of summer with these hot new luxury vehicles."
With the addition of these new vehicles, Action further solidifies itself as one of the Big Apple's leading luxury vehicle providers. "Whether you're traveling for work or for pleasure, we've got the vehicle that suits your needs."
About the Mercedes Sprinter 15 Passenger Van
Fully-loaded and equipped with a new OM651 2-stage turbocharged diesel engine, the Sprinter offers exceptional fuel economy and on-road durability. Available immediately. For more information on availability and rates, call 646-650-2500.
About the Mercedes S550
Now with 449 horsepower, the new Mercedes-Benz S550 features a 4.6-liter twin turbo V8 engine. Sleeker and more athletic than previous models, the new S550 is equipped with Mercedes' state-of-the-art Electronic Stability Program, AIRMATIC semi-automatic suspension and a fuel-saving ECO start-stop system, amongst other innovative improvements. Reserve the S550 today at http://www.actioncarrental.com.
About the Porsche Boxster
Stylish and sophisticated, the 2014 Porsche Boxster boasts a thrilling drive, stellar handling and airtight convertible design. Standard features include a four-speaker stereo, front and rear trunk space, power-operated soft-top, and a 2.7-liter horizontally opposed 6-cylinder engine. Striking both inside and out, the Porsche will be available at Action Car Rental in mid-May.
About the Corvette Stingray
The 2014 Corvette Stingray boasts sculpted lines, a lightweight frame and a 7-speed transmission that will make you forget every muscle car that came before it. The quickest, most powerful Corvette ever built, the new Stingray comes standard with a 460 horsepower, 465 pound per foot of torque LT engine. Space-age engineering and advancements include carbon-fiber and carbon-nano-composite structures to reduce weight and improve performance. Available mid-May.
Customers can reserve these vehicles, or any one of Action's extensive fleet via eight locations throughout Manhattan, New Jersey and Philadelphia. For additional information on availability and vehicle specifications, please call 646-650-2500.
About Action Car Rental
Action Car Rental is New York City's leading independent car rental agency. With eight locations in New York City, New Jersey and Philadelphia, Action Car Rental provides business and leisure travelers with a wide variety of rental vehicles, including luxury cars and hourly rentals. Visit http://www.actioncarrental.com for more information.