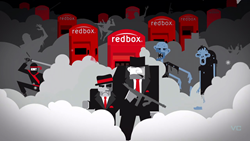 It was important to tell engaging and entertaining stories that resonate with movie and gaming fans.
Boston, MA (PRWEB) April 30, 2014
Redbox tapped Boston creative agency, Viewpoint Creative, to develop an entertaining series of videos designed to highlight Redbox convenience and value. Targeted offerings included Redbox's enormous collection of Blu-ray movies and Redbox's reservation feature that allows consumers to reserve in advance before they go to their local Redbox.
http://www.becreativemgt.com/portfolio/redbox/
"These are Redbox offerings that many of their customers don't know they have," says David Shilale, General Manager/Executive Producer, Viewpoint Creative. "The challenge for us was to drive home these messages via an experience with the quality, and story lines consumers expect from great entertainment."
Viewpoint Creative's solution was an expandable fully animated campaign called "Check the Box". It connects a 'check-list' of the things you love about great entertainment with 'checking' the Redbox kiosk to find what you're looking for.
Says Viewpoint Executive Creative Director, Michael Middeleer, "It was important to tell engaging and entertaining stories that resonate with movie and gaming fans. We couldn't show specific product and we really wanted to give the Redbox kiosk life, so this animated approach offered the perfect solution."
From a design perspective, the look needed to be family friendly, as well as smart and contemporary. It also needed polish to convey Redbox's high-end video quality like the Blu-ray experience. Viewpoint developed an illustrated style and color palette that is used throughout the videos. Redbox's iconic red remained a central element.
"The key," said Creative Director of Design, Ted Roberts, "was to tell a story that was immersive but also informative. "People who use Redbox love Redbox. But, surprisingly, many don't realize all the great things Redbox does to make the experience better. Our job was to keep what they enjoy about the brand and build upon it."
ABOUT VIEWPOINT CREATIVE
Viewpoint Creative is a unique collective of creative individuals who together form a team of marketing and design strategists. Headquartered in Boston, MA, the group combines word, image, motion and sound to create emotional and entertaining experiences that drive results. Viewpoint Creative's focus is screen marketing – engaging audiences wherever they go, from the movies to stadiums, mobile to TV. Clients include ESPN, Disney, Hasbro, HBO, HGTV, Reebok and Staples.
http://www.viewpointcreative.com/
ABOUT BE CREATIVE MANAGEMENT
BCM is dedicated to brilliant communications for entertainment, media, advertising, and consumer brands worldwide. Based in New York and Los Angeles, BCM represents top creative agencies that transform strategy into engagement.