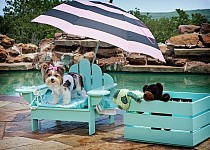 "Small boutique stores such as ours, can offer unique items and more personalized service for the customer and that is what we are all about."
Dallas, TX (PRWEB) May 02, 2014
Castlerock eCommerce, LLC managing partner, Linda Winfield, is pleased to announce the launch and Grand Opening celebration for their new online pet boutique MyPoochsCloset.com. The company is committed to bringing pet owners an extensive line of designer and upscale pet products that are fashionable, fun and will enhance your pooch's lifestyle.
My Pooch's Closet carries a wide variety of pet products that include not only designer and couture dog apparel, but many other products to meet the everyday needs of dogs and their owners. Some of these products include dog furniture, dog collars and leashes, dog accessories, dog carriers, dog toys, dog jewelry, and dog beds. They also carry dog grooming supplies, dog supplements and natural dog treats.
Quarterly the website will be highlighting a specific designer. "We are extremely pleased to highlight Yvette Ruta in our Grand Opening," said Linda Winfield. "Yvette brings stunning couture designs in both pet apparel and pet furniture and we are thrilled to represent her line."
My Pooch's Closet plans to continue to add new lines and products regularly. Several apparel lines are in the works and will be added soon. "We are also looking at becoming a U.S. distributor for a wonderful line of grooming products, currently found only in the U.K. Our goal is to carry unique, top of the line products that the big box retailers don't carry", expressed Winfield.
Customers will enjoy an easy-to-navigate shopping experience at MyPoochsCloset.com and will also find information there on how to take advantage of the Grand Opening 20% discount. Those who join their mailing list will have priority at the latest product arrivals, promotional offers and product giveaways. An informative blog can also be found on the website that includes entertaining topics on dog fashion and ownership. Plans are underway for a Pup of the Month club to come to the blog in the near future as well.
Coming from a strong customer service background, Winfield makes a point that excellent customer service is paramount. "We're looking forward to being there for our clients" said Winfield. "Small online pet boutiques such as ours can offer unique items and more personalized service for the customer and that is what we are all about".
About My Pooch's Closet
MyPoochsCloset.com is a designer online pet boutique that serves to pamper your pet. We offer an extensive line of designer dog clothing, dog accessories, dog treats, dog carriers and crates, as well as dog beds and dog furniture. We are committed to make shopping for your pet a fun and easy experience. Check out our entire line of pet products at http://www.mypoochscloset.com and call us at 866-766-2488 for any information.