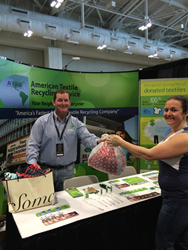 ATRS Recycling collected a total of 1,850 lbs. of textile material and 4,700 lbs of perishables, diverting it all from Music City Landfills!
Nashville, TN (PRWEB) May 02, 2014
The race towards zero waste is on as American Textile Recycling Service and the Competitor Group team up to clean up the streets as part of their ROCK, RUN, and RECYCLE campaign. On April 24-26th participants from all over the world ran the St. Jude Country Music Marathon and left behind a green footprint thanks to a dedicated team of eco-minded staffers and volunteers.
ATRS Recycling crews dressed in their distinctive bright green ATRS RECYCLE HERE shirts lined the Start Line corrals and collected a total of 1,850 lbs. of dropped warm up gear and other textile material from over 30,000 runners on Race Day. All of it was diverted from Music City landfills.
Approximately 4,700 lbs. of unused perishables were collected at the Finish Line including bagels, apples and bananas and were delivered immediately to the Nashville Rescue Mission. The downtown facility helps the homeless find hope, shelter, and nourishment throughout Nashville. The Competitor Group and American Textile Recycling Service are committed to creating greener cities in the communities that host Rock N Roll Marathon events nationwide.
The ROCK, RUN, RECYCLE campaign moves onto San Diego California on May 30 at the SUJA Rock N Roll Marathon. Participants are encouraged to bring a bag of used running gear, shoes or unwanted textiles to the Expo.
American Textile Recycling Service (ATRS) is the nation's fastest growing textile recycler and an official recycling partner of The Competitor Group. Its socially responsible business model provides free textile recycling solutions for the public, job stimulation worldwide and much-needed funding for worthy local charities. Easy, convenient ATRS Recyclers are available throughout Tennessee, Atlanta, Orlando, Phoenix, Scottsdale, Tempe and Tucson AZ, San Antonio, Austin, Dallas, Houston, Galveston and Beaumont TX, Michigan, Oklahoma, Colorado and Southern California. For press inquires contact pr(at)atrsonline(dot)com.