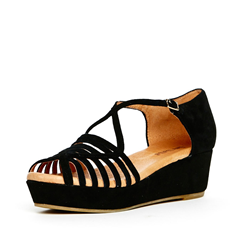 "Every lady that loves shoes searches for that brand she knows will never let her down. Gee' Wa Wa is that brand. You know they will never compromise quality, style and comfort on any of their shoes,"
Lutherville, MD (PRWEB) April 30, 2014
For the spring and summer season, Envi Shoes stocks an array of sandals by fashion-footwear brand, Gee' Wa Wa including the Doris sandal. The Gee' Wa Wa Doris is a platform available in three colors: red, blue and black. The Doris is designed with an authentic artisan look and feel, truly a Gee' Wa Wa signature.
The Gee' Wa Wa Doris is a strappy platform sandal that channels a suave retro style. The shoe is equipped with a 2 1/4 " heel and 1 1/2" platform. There is an adjustable ankle strap with buckle closure and includes a suede upper and leather lining. You can find the Gee' Wa Wa Doris at Envishoes.com for $129.95.
If there is one item that every woman will snatch up on a moment's notice, it is a stylish flat. Envi Shoes swears by the Gee' Wa Wa Lydia, and boasts the style as the flat that every woman should get their hands on. "Every lady that loves shoes searches for that brand she knows will never let her down. Gee' Wa Wa is that brand. You know they will never compromise quality, style and comfort on any of their shoes," says Tia Nicole Newton, Marketing Manager at Envi Shoes. Available in colors, black multi and distressed black, the Lydia cutout loafer has all the right elements of becoming a closet staple, priced at $97.95.
Started in 2005, Gee' WaWa has built a reputation for creating quality, unique and stylish shoes. The Gee WaWa look is distinctly retro-inspired, with a modern twist. Gee WaWa shoes feature comfortably padded leather footbeds and leather linings to make them comfortable as well as chicly stylish. Only the finest materials are used; vegetable dyed leathers, calf suedes and soft, distressed leathers. The perfect finish to tailored trousers or skirts. You can be sure to find other great Gee' Wa Wa styles available now at Envishoes.com.
About Envi Shoes
Envi Shoes is an online retailer of fashion-forward designer shoes and accessories, for both men and women, from Jeffrey Campbell, UNIF, Y.R.U., T.U.K., Frye, Deandri, Wolverine, Senso, Rebecca Minkoff and more. Based in Baltimore, Maryland, the company operates solely online with a global reach serving shoe lovers not only in the United States but also in the UK, Russia, Australia, Japan and Hong Kong to name a few.
Who is the Envi Shoes customer?
Envi Shoes likes to think of them as a lover of art, fashion and music. They are the blog readers, the trendsetters and risk-takers. They certainly don't follow the trends; they set them.