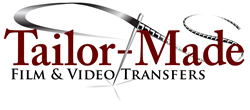 Commitment to Quality Since 1985
Philadelphia, PA (PRWEB) May 02, 2014
Recently appearing at NAB 2014, the Flashtransfer Choice2K+ offers 2K, high definition and standard definition frame by frame digital scanning of 8mm, Super8 and 16mm silent and sound film to a choice of digital outputs. The sprocket-less scanner allows for advanced color correction and picture enhancement bringing film transfers to a whole new level of quality. "The images that we have been able to produce with this equipment are far superior to any of the high end transfer systems that we have explored." says Pete Wolk, President of Tailor Transfer.
Tailor Transfer provides film and video transfers for Photo Retailors, Camera Stores, Photographers, Videographers and companies nationwide. With the implementation of this new technology, they are being sought out by Film Archivists, Universities, Libraries and TV production companies to provide this archival quality service by preserving legacies indefinitely, providing transfers in choice of quality, size and digital formats.
About Tailor Transfer
Tailor Transfer has been providing high-quality, professional transfer of film, videotapes, photographs, slides, digital video and audio since 1985. Located just outside Philadelphia in Feasterville, PA, Tailor Transfer serves as the "video transfer department" for companies nationwide. Camera and Photo retailers are able to provide their customers premium video transfer services with virtually no investment while realizing an excellent source of income. Tailor Transfer provides online ordering / tracking, point of purchase materials, customized web link, customized order forms, everything necessary for a successful partnering.