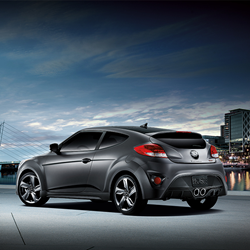 Everyone that experiences the Hyundai Veloster falls in love.
Portland, Oregon (PRWEB) April 30, 2014
This year's Best Value in America Award by Vincentric goes to the 2014 Hyundai Veloster. This vehicle fought for its title as the Best Value in America while competing against other models in the subcompact segment that represented the top names in the auto industry such as the Ford Fiesta, Nissan Juke, and the Kia Forte.
Vincentric's Best Value in America Award measures the cost-of-ownership using eight different elements such as depreciation, fees and taxes, financing, fuel, insurance, maintenance, opportunity cost and repairs.
The 2014 Hyundai Veloster was identified as reigning in this category by measuring which vehicles has lower than expected ownership costs given the market segment and price to a statistical model.
The 2014 Hyundai Veloster is "priced right," and "its total cost to own is much lower than one would expect from a subcompact at its price point," said David Wurster, President of Vincentric.
Vincentric, LLC. is a privately-held automotive data compilation and analysis firm headquartered in Bingham Farms, Michigan. Vincentric provides data, knowledge, and insight to the automotive industry by identifying and applying the many aspects of automotive ownership costs. Using Dynamic Cost to Own™, its comprehensive, proprietary cost-of-ownership database, the company measures and analyzes the overall cost of owning and operating vehicles and its impact on the value provided to buyers.
"Our dealership is proud to have such a high-quality vehicle in our inventory available to our loyal customers," said Emily Taylor at McLoughlin Hyundai. "Everyone that experiences the Hyundai Veloster falls in love with its design, handling and performance and now we know why. It's a great car."
McLoughlin Hyundai has several 2014 Hyundai Veloster models in stock. These vehicles showcase Hyundai's signature fluidic sculpture design and produce 201 horsepower in their 1.6-liter Gasoline Direct injected DOHC, 4-cylinder engine with Dual-CVVT on its standard six-speed transmission.
McLoughlin Hyundai is an Oregon Hyundai dealership that offers residents in nearby Portland incredible deals, outstanding service, and a well-trained, knowledgeable staff to answer all of your questions. McLoughlin Hyundai is centrally located off McLoughlin Boulevard for easy access from Portland, Milwaukie, Hillsboro, and Gresham. Come in today and test drive a new Hyundai car or look at their selection of quality used cars, trucks and SUVs.
Interested in having the 2014 Hyundai Veloster all to yourself? Come visit McLoughlin Hyundai at 16700 Southeast McLoughlin Blvd, Milwaukie, OR 97267 or give the Portland Hyundai dealer a call at 866-834-0882.