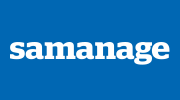 Cary, NC (PRWEB) April 30, 2014
Samanage, provider of the only true multi-tenant, unified service desk and asset management cloud solution on the market, today announced the launch of an innovative eLearning series designed for IT management professionals, which promotes the value of implementing a cloud-based IT Service Management (ITSM) solution. The first installment introduces a whitepaper, "Selecting a Cloud-Based ITSM Solution: 5 Unexpected Considerations."
As more organizations move their ITSM to the cloud for greater flexibility and lower costs, it is important to evaluate all factors that are important to a successful implementation. When choosing a cloud-based ITSM solution, features and functions are important, but they are just the tip of the iceberg. Samanage has unmasked five key considerations often overlooked when selecting a cloud-based solution. This whitepaper outlines those considerations and the potential impact they can have on achieving the greatest value both within your IT support center and throughout the entire organization.
The whitepaper, "Selecting a Cloud-Based ITSM Solution: 5 Unexpected Considerations," is now available for download. The eLearning series will continue on May 27th at 1:00 pm EST with a webinar on "The Path to IT Service Excellence". Shvonne Williams, Director of IT Services at MediFit Corporate Services, will share a case study on how she strategically increased the value and ROI of her team's ITSM solution within her organization. Information on how to register for the webinar is coming soon.
About Samanage
Samanage provides the only true multi-tenant, unified service desk and asset management cloud solution on the market today. Our revolutionary user interface delivers an unmatched user experience and enables code-free customization, allowing customers to fully deploy a robust IT Service Management (ITSM) solution in only 14 days. We are uniquely able to deliver both simplicity and strength to customers in the form of instant value, user-friendly functionality, and feature-rich and "future-proof" capabilities. Our goal is to help customers deliver a superior service experience to their end users, and real value throughout their organization by improving asset control, empowering end users, and maximizing resources. Learn more at: http://www.samanage.com.