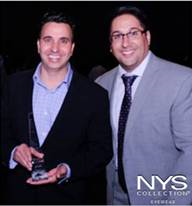 Receiving an award of this nature from such a distinguished trade association represents the pinnacle of our professional lives.
Las Vegas, NV (PRWEB) May 01, 2014
ICSC, the premier resource for the retail real estate industry, named NYS Collection Founders Sal Babbino and Marc Behar their 2014 Specialty Retailers of the Year during an award ceremony convened during the Specialty Retail Entrepreneur Expo and Conference in Las Vegas, Nevada.
Founded in 1996, NYS Collection has grown from one cart within New York City's iconic World Trade Center courtyard to 1,500 licensed retailers worldwide and over one hundred million pairs of sunglasses sold. Through revolutionary visual displays as well as acclaimed innovations in both packaging and merchandising, NYS Collection has become a mainstay in the international sunglass market. Well-known and well-received, NYS Collection success is based on its design and manufacture of exceptional, affordable sunglasses and sunglass related accessories.
"The ICSC award program was created to recognize individuals who have achieved outstanding excellence in the specialty retail industry. Both Sal Babbino and Marc Behar were nominated because of their tremendous accomplishments in the specialty retail industry over the years - most notable of which is their wonderful expansion in the US and around the world," said Patricia Norins, Publisher of Specialty Retail Report and Vice President of Specialty Programs for the International Council of Shopping Centers.
"Receiving an award of this nature from such a distinguished trade association represents the pinnacle of our professional lives," said Sal Babbino co-founder of NYS Collection. "The recognition and affirmation of our peers is an honor - one which we remain tremendously grateful for," added NYS Collection's co-founder Marc Behar.
ABOUT NYS COLLECTION:
In addition to an incredible selection of men's, women's and children's sunglasses, NYS Collection offers specialty lines of licensed sunglasses, sunglass related accessories as well as readers – products with broad appeal for a diverse customer base. NYS Collection stands behind its products with a 100% replacement guarantee as administered by the in-house claims division located within their 50,000 square foot state of the art corporate headquarters. http://www.nyscollection.com, @nyscollection on Facebook and Twitter.
ABOUT ICSC:
Founded in 1957, ICSC is the premier global trade association of the shopping center industry. Its more than 63,000 members in over 100 countries include shopping center owners, developers, managers, marketing specialists, investors, retailers and brokers, as well as academics and public officials. As the global industry trade association, ICSC links with more than 25 national and regional shopping center councils throughout the world. http://www.icsc.org, Facebook.com/MyICSC, Twitter.com/icsc.