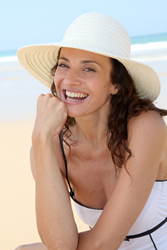 Reduce sun exposure, use sunscreen, wear appropriate clothing and avoid sunburns and tanning beds.
Rolling Meadows, IL (PRWEB) May 01, 2014
The dangers of the sun's rays take center stage in May for Skin Cancer Awareness Month.
Doctors tell more than 1 million Americans each year they have skin cancer, by far the most common of all cancers. One in five people is expected to develop some kind of skin cancer in his or her lifetime.
Most cases are a direct result of the sun's ultraviolet (UV) rays, according to the American Cancer Society. Both the common basal and squamous cell skin cancers tend to be found on sun-exposed areas, and incidence is tied to lifetime sun exposure. Melanoma, more deadly but less prevalent, also is tied to sun exposure.
The American Society for Dermatologic Surgery has a number of tips to help prevent skin cancer as well as to recognize the danger signs early.
"If you choose to have fun in the sun, you need to take precautions," said ASDS President Mitchel P. Goldman, M.D. "Skin cancer is too great a threat to be taken lightly."
ASDS member dermatologists – experts in the health, beauty and function of skin – recommend a three-fold preventive approach of protection, early recognition and diagnosis, and screenings. Protection and prevention tips include:

Reduce sun exposure. Minimize time in the sun, especially when the sun's UV rays are strongest between 10 a.m. and 4 p.m. Remember that indirect sunlight also can be dangerous.
Apply sunscreen. ASDS member dermatologists recommend applying a sunscreen with a Sun Protection Factor (SPF) of at least 30 and a broad-spectrum lip balm a half hour before exposure to the sun and reapplying both regularly when outside.
Wear appropriate clothing. A white T-shirt only provides the protection of an SPF 4 sunscreen, so darker colors or tightly woven fabrics – such as silk and polyester – are safer options. A wide-brim hat can reduce exposure of the scalp, forehead, neck, ears and eyes by 70 percent.
Avoid sunburns. An individual's risk of developing skin cancer doubles with five or more sunburns in a lifetime.
Stay out of tanning beds. People who use them at least once a month increase their risk of skin cancer by 55 percent, according to studies, and the numbers are more ominous for people who begin such tanning regimens in their teens or 20s.
Screening, detection and diagnosis tips include:
Know the warning signs. Marks of suspicious skin lesions and moles include asymmetry, jagged or irregular borders, color variations, diameter larger than a pencil eraser or changes.
Examine skin regularly. Look especially for any new black-colored moles or changes in the size, shape, outline, color or feel of existing moles.
Know risk factors. People at higher risk include those with fair skin and blond or red hair, have a family history of skin cancer or of blistering sunburns, spend or spent a lot of time outdoors, undergo indoor tanning or have many moles.
Seek medical help. People who discover suspicious lesions or are concerned about a mole or lesion should consult a dermatologist.
"It is human nature for people to want to enjoy the sun," Goldman said. "Just as with everything else, though, moderation is needed. Restraint, taking proper precautions and being alert to changes in the skin are key to lessening the prevalence of skin cancer and finding any cancers early, when they are more treatable."
ASDS has a wealth of information on skin cancer, including do's and don'ts, treatments, myths and the Sun Safe Soccer and Sun Safe Surfing programs. Visit http://www.asds.net/SkinCancerInformation.aspx.
About the ASDS
The American Society for Dermatologic Surgery (ASDS) is the largest specialty organization exclusively representing dermatologic surgeons who have unique training and experience to treat the health, function and beauty of your skin. ASDS members are pioneers in the field. Many are involved in the clinical studies that bring popular treatments to revitalize skin and fill and diminish wrinkles to the forefront. Their work has helped create and enhance many of the devices that remove blemishes, hair and fat, and tighten skin. Dermatologic surgeons also are experts in skin cancer prevention, detection and treatment. As the incidence of skin cancer rises, dermatologic surgeons are committed to taking steps to minimize the life-threatening effects of this disease. For more information, visit asds.net.
Website: http://www.asds.net
Follow ASDS on Twitter: http://www.twitter.com/SkinCancerinfo
Become a fan of ASDS on Facebook: http://www.facebook.com/SkinCancerAwareness
Locate a dermatologic surgeon in your area: http://www.asds.net/findadermatologist.aspx
Contact:
Beth Bales, Communications Manager
American Society for Dermatologic Surgery
bbales(at)asds(dot)net
847-956-9143